Humpback whales increasing in New York City waters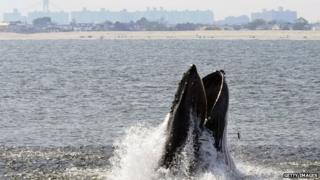 New York City has not only seen more tourists in recent years, but more humpback whales have also been spotted near its shores.
Whale-watchers have spotted the species in the Atlantic within a mile of the Rockaway peninsula, part of New York's borough of Queens.
This year alone, 106 humpbacks have been spotted - and experts say there are at least 19 different kinds.
Conservationists say it is "truly remarkable" to have them so nearby.
Paul Sieswerda, founder of Gotham Whale, which documents the marine mammal population around New York, said the whale sightings began picking up in 2010.
"It was pretty slim pickings at first, actually," Sieswerda said. "We went on many cruises and had three sightings totalling five whales in 2011."
As a result, his company works with the American Princess whale-watching boat to provide experts for whale sighting documentation.
"It is truly remarkable, within miles of the Empire State Building, to have one of the largest and most charismatic species ever to be on this planet," said Howard Rosenbaum, director of the Ocean Giants programme at the Wildlife Conservation Society.
In 2012, there were only 15 sightings, and then 33 in 2013.
Naturalists are questioning why these much-loved creatures have chosen to return to the city's shores, after whaling killed off many pods in the past.
Mr Rosenbaum said the increase could be due to a basic shift in the whales' habits rather than a spike in population.
Another explanation could be that, due to the water being cleaner, there is a larger population of menhaden, a favorite food of the whales.
There are fears the increase in whales could interfere with New York's busy shipping lanes.
But Mr Rosenbaum said: "Having them here is truly remarkable and encouraging. I think it will help people in New York embrace the natural world and the marine environment and these iconic species."