Iowa developing driver's licence app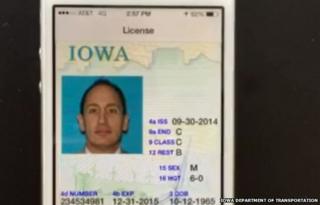 The US state of Iowa is developing an application to put residents' driver's licences on mobile devices.
The app would use a pin number for verification and biometric identification to control who can access it, officials said.
"We are really moving forward on this," Governor Terry Branstand said, according to the Des Moines Register.
An initial pilot programme will begin next year, Iowa's transportation department tells the BBC.
The app could be used at traffic stops and security at Iowa airports.
The state is already one of 30 that allows drivers to show their proof of vehicle insurance electronically.
Residents will still be able to use a regular "hard" driver's licence, the transporation department says.