Mumps outbreak hits National Hockey League players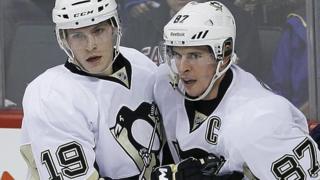 An outbreak of mumps has swept through teams in the National Hockey League (NHL).
The first confirmed cases were three players in the Anaheim Ducks, and since then at least four more teams have been affected.
Ice hockey's top player, Pittsburgh Penguins' captain Sidney Crosby, has missed three games and is still not cleared to play.
The highly contagious disease is usually found in children.
The NHL is composed of 30 member teams from both the US and Canada.
On Tuesday, Penguins forward Beau Bennett was diagnosed with mumps, bringing the total number of players affected to 15.
Meanwhile, Marc-Andre Fleury, Robert Bortuzzo and Olli Maatta were being tested as a precaution, team officials said.
"We have been sanitising the rooms and everything here for the last week," Penguins General Manager Jim Rutherford said.
Crosby, who is the NHL's Most Valuable Player, returned to the ice on Wednesday but only skated on his own before practice.
"He looked good on the ice," said Penguins coach Mike Johnston.
"It was a full skate. He worked on some extra conditioning drills."
Mumps is a viral infection of the saliva-producing glands found on either side of the face.
It is spread by coughs and sneezes and only rarely causes serious complications.
Correction: An earlier version of this story incorrectly stated that the NHL was composed only of teams from the US.