Ezell Ford shot in back by LA police - coroner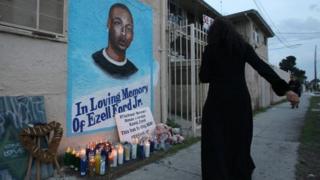 A 25-year-old black man killed by police in Los Angeles was shot three times, including in the back at close range, a post-mortem report has found.
Ezell Ford was killed in August after a struggle in which police say he tried to grab an officer's gun.
He was hit in his right side, right arm and back, where a muzzle imprint was found with the wound, the report says.
The findings come after a string of police shootings of black men generated protests nationwide.
Eric Garner in New York and Michael Brown in Ferguson, Missouri, were killed by on-duty police officers who were later not charged over the deaths, sparking nationwide protests over perceived police injustices.
Many demonstrators in Los Angeles invoked the case of Ezell Ford.
Appeal for witnesses
LA's police chief, Charlie Beck, said the report backed officer accounts but he appealed for more witnesses.
"We will find out the truth about what happened that August night but we need the public's help," he told a press conference.
According to Mr Beck, police officers reported that Mr Ford had attracted their attention with suspicious actions before knocking one officer to the ground.
Mr Ford was on top of an officer and grappling for the officer's holstered weapon when another officer fired two shots and the struggling officer pulled out a back-up gun and shot Mr Ford in the back, Mr Beck said on Monday, reading out an account of the incident.
Mr Ford's parents have filed a federal civil rights lawsuit in which they assert that police knew their son had a mental illness.
The coroner's report was not made public for months because police said they did not want witnesses to be influenced before they had given statements.
But with residents in South LA calling for more transparency, the city's mayor, Eric Garcetti, last month urged the police to allow the release of the coroner's findings.
Last week attention turned to the safety of police officers after two were killed sitting in their patrol cars in New York, by a gunman who cited the Garner and Brown cases before carrying out the attack.
Police were also attacked in LA on Sunday night but no one was hurt. A man is under arrest.