Michael Grimm: NY Congressman resigns after guilty plea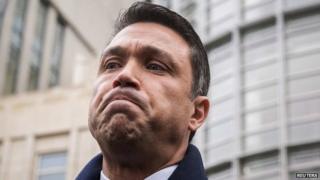 Representative Michael Grimm has said he will resign from Congress, after pleading guilty to a tax fraud charge.
In a statement, Grimm said he could not "be 100% effective in the next Congress" and will quit next week. He is scheduled to be sentenced in June.
The New York Republican had won re-election in November despite being charged for underreporting $1m (£644,000) in wages and receipts
He pleaded guilty last week, saying he would fight to keep his seat.
"As long as I'm able to serve, I'm going to serve," Grimm had told reporters.
But a change of heart came and Grimm spoke to House Speaker John Boehner before making his latest statement.
Mr Boehner has not publicly called for his resignation, but has said his party would not tolerate wrongdoing.
"The congressman fully embraces and accepts his responsibility for his actions," said lawyer Stuart Kaplan, adding Mr Grimm "shows great humility" in resigning.
Grimm said he had made the decision with a "heavy heart, as I have enjoyed a very special relationship and closeness with my constituents, whom I care about deeply".
Prosecutors have said they want Grimm to be sentenced to 24-30 months in prison, while defence lawyers said 12 to 18 months would be appropriate.
A former marine and FBI agent, Grimm was first elected to Congress in 2010. The tax fraud charges came shortly after he threatened to throw a reporter off a balcony in the US Capitol building. He later apologised.
Prosecutors said Grimm deliberately underreported wages and receipts to avoid payroll and sales taxes at Healthalicious, a health food cafe he invested in after retiring from the FBI.
Grimm was also accused of lying under oath about his business practices. He pleaded guilty to one count of aiding in the filing of a false tax return.
He will resign on 5 January, a day before the new Congress is seated - with Republican majorities in both chambers.
A special election will be held for his seat, which covers the New York City borough of Staten Island and part of Brooklyn.