Boston bomb trial delay request rejected by judge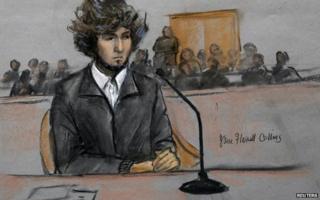 A US federal judge has denied requests by the Boston Marathon bombing suspect to delay the trial by nine months until September and move it to another city.
Defence lawyers for Dzhokhar Tsarnaev argued that they needed more time to prepare the case and said their client could not get a fair trial in Boston.
But the judge disagreed and jury selection is due to begin on Monday, although there will now be an appeal.
Three people were killed and more than 260 injured in the April 2013 bombings.
Mr Tsarnaev, 21, and his older brother, Tamerlan Tsarnaev, are accused of planting and detonating two pressure cooker bombs near the marathon finishing line.
He has denied the charges but faces the possibility of the death penalty if he is convicted.
His brother died in a shootout with police several days after the bombings, and the younger brother was captured the same day, hiding in a boat.
US District Court Judge George O'Toole denied the change-of-venue request and the plea for a nine-month delay in the start of the trial.
The defence team said it was overwhelmed by the length of the witness list and the number of potential court exhibits.
It is now asking the judge to postpone jury selection pending the outcome of the appeal.