Alan Dershowitz: A high-flying lawyer's unwanted publicity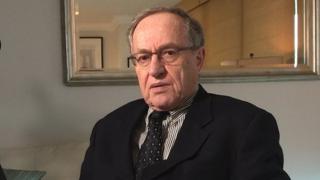 Harvard Law professor emeritus Alan Dershowitz has made a name for himself defending high-profile celebrity clients and thriving in the limelight of public attention. Now, however, he may be working on behalf of his most important client yet - himself.
The 76-year-old Mr Dershowitz was recently linked to the under-age sex scandal involving convicted financier Jeffrey Epstein, who pleaded guilty to prostitution charges after being accused of arranging under-age sex partners for "politically connected and financially powerful people". The Harvard professor, along with Prince Andrew, was recently identified as participating in the sex ring by one of the women engaged in a lawsuit against the US government.
Mr Dershowitz quickly responded to the allegations, calling them "unequivocally and completely false" and suing in a Florida court to have his name removed from the legal documents and threatening disbarment action against the woman's lawyers.
"My goal is to bring charges against the client and require her to speak in court," Mr Dershowitz told BBC's Rajini Vaidyanathan. "I welcome any opportunity that would put her under oath and require her to state under oath these allegations."
"The truth will emerge. The facts are clear," he added. "Everybody who knows me knows this is not something I would ever do."
The semi-retired Harvard professor's quick and fiery response is in keeping with his reputation as an outgoing and occasionally abrasive litigator who has built his career as an outspoken criminal defence attorney representing a wide range of clients - from the famous and infamous to the unknown and overlooked.
"For 50 years, he's consistently defended the rights of the least popular citizens of the United States of America," Martin G Weinberg, a former student and colleague of Mr Dershowitz, told the Boston Globe. "Few people can be counted on to take the right side of something so consistently and no matter how unpopular it is. He's the most courageous advocate I know, to both clients and causes."
Mr Dershowitz grew up in Brooklyn, New York, the child of strict Orthodox Jewish parents. Although he struggled academically in high school, he went on to flourish at Brooklyn College and finish first in his class at Yale Law School in 1962.
After clerking for an appellate court judge and US Supreme Court Justice Arthur Goldberg, Mr Dershowitz joined the Harvard Law School faculty in 1964 as an associate professor and became the school's youngest tenured professor three years later, at age 28.
In the ensuing years he published more than 1,000 articles and 30 books, taught courses in criminal and constitutional law, and defended numerous death row inmates pro bono. He gained his fame, however, representing a series of high-profile clients, including actor/athlete OJ Simpson, kidnapped heiress Patty Hearst, disgraced televangelist Jim Bakker, hotel magnate Leona Helmsley, Wikileaks founder Julian Assange and Claus von Bulow, the millionaire socialite who was convicted of attempting to murder his wife.
The book Mr Dershowitz wrote about his successful 1984 appeal of von Bulow's conviction, Reversal of Fortune, became the basis for an Academy Award winning film, helping to cement his stardom.
He says his biggest failure as a lawyer is that he was unable to get a new trial for Mike Tyson following his rape conviction.
Harvard Law Prof Charles R Nesson told the Harvard Crimson that Mr Dershowitz is "more of a streetfighter than a traditional academic".
"He's not up to charm you," he added. "It's sort of like he doesn't take prisoners. When he's up against you, he's not pulling any punches, so you might come out of it feeling like you got pretty well knocked around. He's not above a personal attack."
Mr Dershowitz has also been an outspoken defender of Israel, penning the New York Times best-selling The Case for Israel. It's a view that has garnered the professor perhaps the lion's share of his criticism.
Polemicist Noam Chomsky, who has often sparred with Mr Dershowitz on Middle East issues, told an interviewer that Mr Dershowitz is "not very bright" and "basically a clown", often resorting to personal attacks.
"He knows that he can't respond to what I say," he said. "He doesn't have the knowledge or the competence to deal with the issues. Therefore, the idea is to try to shut it up by throwing as much slime as you can."
Norman Finkelstein, a professor of political science, accused Mr Dershowitz of plagiarism in his Israel book - a charge that Harvard University investigated and dismissed. Mr Dershowitz later lobbied Depaul University to deny Mr Finkelstein tenure, prompting a letter of complaint from a school faculty council.
In a New York Times review of Mr Dershowtiz's 2013 memoir, Taking the Stand, Slate legal writer Dahlia Lithwick says that the lawyer's career "has been a natural experiment in the proposition that the cure for toxic speech is invariably more speech", although she points out that he has criticised Muslim protestors in the past.
Mr Dershowitz's views on the efficacy of state-authorised torture have also been a lightning rod of controversy. In January 2002 he wrote an opinion piece for the San Francisco Chronicle in which he recommended that the US government be allowed to torture terrorism suspects after obtaining a court order.
"An application for a torture warrant would have to be based on the absolute need to obtain immediate information in order to save lives coupled with probable cause that the suspect had such information and is unwilling to reveal it," he wrote.
Mr Dershowitz now finds himself in a controversy not of his own choice, however. And shortly after his legal and public relations broadside in the sex ring case, the lawyers representing the female plaintiff fired back in a lawsuit accusing Mr Dershowitz of defamation.
It's the kind of high-stakes, high-profile case that likely would have caught the eye of a lawyer like Alan Dershowitz.