Mitt Romney 'likely to run for White House in 2016'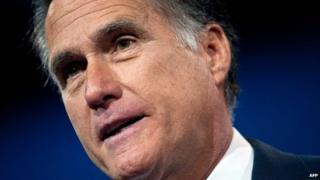 Mitt Romney has been reviving his national network of political supporters and donors for a third run at the White House, US media report.
One Republican source told the Washington Post the defeated 2012 candidate "almost certainly will" launch a 2016 presidential campaign.
Last week he told Republican donors in New York he was interested in running.
If he does, he could be up against Jeb Bush for the party nomination and then Hillary Clinton in a general election.
The Washington media is abuzz with reports that Mr Romney, a former governor of Massachusetts, has spent the past few days reaching out to political allies and potential sources of campaign funding.
The Post reports that his wife Ann has come round to the idea, although there are still some reservations among his five sons.
---
Possible 2016 opponents
No-one has formally declared but these are some of the names to watch:
early Republican frontrunner is Jeb Bush
but New Jersey Governor Chris Christie could battle Bush for the party's centre ground
darling of the Tea Party is Texas Senator Ted Cruz
firebrand liberal Elizabeth Warren is championed by many in the Democratic Party
libertarian Rand Paul has his supporters - and enemies - among Republicans
Hillary Clinton will have learnt much from her failed campaign of 2008
---
Few families can know as well as the Romneys what is involved.
In 2008, their father and husband won some of the Republican primary contests but was beaten by John McCain.
Four years later, he fell at the final hurdle, losing in the presidential election to Barack Obama, who decisively secured victory and his second term.
Mr Romney's campaign was criticised for alienating Hispanics and not connecting sufficiently with ordinary people.
According to Politico, he is determined to learn from past mistakes and is thinking about making helping the poor a central theme of any campaign.
Jeb Bush, the former Florida governor and brother of former president, George W Bush, declared he is actively exploring a potential run.
He and Mr Romney could be competing both for the same financial backers and for the Republican middle ground.