John Boehner: Barman 'wanted to kill' senior Republican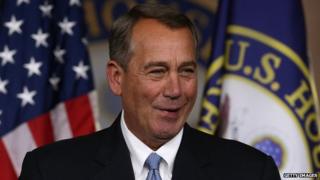 A barman has been charged with threatening to kill the Speaker of the House of Representatives, John Boehner.
Michael Hoyt, who worked at a country club frequented by Mr Boehner, said he wished to shoot or poison the senior Republican by spiking his drink.
The man is said to have a history of mental illness and owned an automatic pistol, which police have confiscated.
In court papers, police said Mr Hoyt "believes John Boehner is the devil" and is responsible for Ebola.
The barman called emergency services on 29 October 2014 and the call prompted sufficient concerns for the police to go to his home address.
Mr Hoyt told them he had a loaded Beretta .380 pistol which he had planned to use to shoot Mr Boehner before fleeing.
He also said he had planned to poison Mr Boehner's drink but did not have time before he lost his job at Wetherington Country Club in West Chester, Ohio.
Police confiscated the weapon and Mr Hoyt was taken to a local hospital for psychiatric evaluation.
"Hoyt told the officer he was Jesus Christ and that he was going to kill Boehner because Boehner was mean to him at the country club and because Boehner is responsible for Ebola," court documents say.
---
Who is John Boehner?
heads Republican-controlled US House of Representatives, the lower law-making chamber
has had to corral his conservative wing while also pleasing party establishment
grew up in Cincinnati, second of 12 children in Catholic family
plays golf (above with Barack Obama), also likes his red wine and cigarettes
makes light of comedian's "orange" tan jokes
---
In December, a judge ordered that Mr Hoyt be remanded into a specialised prison in Massachusetts for psychological prison for no more than 45 days.
In court documents, authorities say they believe he poses a "current and ongoing credible threat" and noted that he "may be released at any time at the hospital's discretion".
Mr Boehner is in Washington where aides tell the BBC he is carrying on his business as usual. He attended a meeting with President Obama yesterday.
"Speaker Boehner is aware of this situation, and sincerely thanks the FBI, the Capitol Police, and local authorities in Ohio for their efforts," the Republican leader's spokesman Michael Steel said.
In late October, investigators from the US Capitol Police and FBI interviewed Mr Boehner at his residence in his home state of Ohio. Police say that he did not recall any negative interactions with the bartender.