Seven things we already know about the State of the Union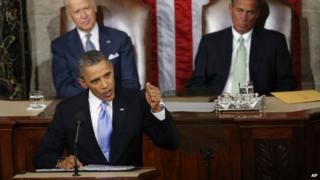 The US president's State of the Union speech is used as a way for the White House to introduce new proposals and set new goals. What's in store this year?
Gone are the days when the president stood up to speak and a nation watched with baited breath to see what was in his plans for the year ahead.
A television audience of 67 million watched Bill Clinton in 1993 but only 33 million tuned in last year.
This time there could be even less reason to watch, as Mr Obama has travelled around the US previewing his proposals.
There could be the odd surprise, of course, but here are seven things you can expect to hear about.
---
Tax increase on wealthy
The president will propose a number of measures to tax wealthy Americans and large corporations, to pay for improved benefits for working families.
By closing a loophole that allows rich individuals to pass on certain assets tax free, raising capital gains tax on high earners and issuing new fees on US financial firms with $50bn-plus assets, he hopes to raise $320 billion (£211 billion) over a decade.
That would pay for a tripling of child tax credits, help for families with two working spouses and extra incentives to save for retirement.
Republican Paul Ryan, who is the party's leading voice on spending policy, dismissed it as "not a serious proposal".
"We lift families up and grow the economy with a simpler, flatter tax code, not big tax increases to pay for more Washington spending," his spokesman said.
---
Paid sick leave
President Obama has called on Congress to pass existing legislation that would require all employees to earn up to seven days of paid sick leave per year. Currently, an estimated 44 million American workers have no paid sick leave.
Valerie Jarrett, a White House advisor, has called the measure a benefit to the economy, arguing it would reduce worker turnover and increase productivity
"This is not a partisan issue," she said. "This is a family issue, and it's an economic issue."
Also included in next year's budget request is $2bn for states to create similar family and medical leave programmes. Ms Jarrett has said details on how the White House would pay for such measures would be forthcoming.
Such policies would need to be approved by Congress and among those in opposition is the National Federation of Independent Business, a lobbying group for small businesses.
Jack Mozloom, a spokesman for the group, said small businesses do not have the same flexibility as larger firms and mandated paid leave would force cuts to pay and hiring.
"It ripples through the economy in ways the advocates and the president, I think, sometimes don't see," Mr Mozloom said.
---
Free community college
Mr Obama has called for the federal government to cover 75% of the costs of two-year community college, with states paying for the rest. The proposal, modelled off a programme by Tennesee Governor Bill Haslam, is touted to help nine million students save about $4,000 a year (£2,630) in tuition costs.
Many community college students are older than university students and are studying in technical training programmes. But critics have argued Mr Obama does not have a plan to pay for the costs of the programme, which is estimated at $60bn over 10 years.
Will 'free community college' proposal work?
---
Cybersecurity
The US president dedicated two speeches in Washington to the issue of cybersecurity - one of which was followed shortly by a hack of the US military's central command's Twitter and YouTube accounts.
The proposals focus on two areas - consumer data privacy and how the government responds to online threats and cybercrime.
In the latter, Mr Obama is advocating for legislation that would improve the way the government and private sector share information about cyber threats, and would update the legal framework needed to go after cyber criminals.
Previous efforts on cyber security legislation have encountered opposition from civil liberty campaigners, especially after the backlash over revelations about the scope of government surveillance and bulk data collection.
Mr Obama is also proposing legislation to require firms to inform customers of data breaches within 30 days, protect student information on educational software from being sold and other consumer data legislation.
Last year many large US retailers, including Target, Home Depot, Staples and Sears, were hit by thieves keen to scoop up payment-card data.
Why 2014 was good for retail robbers
---
Methane cuts
The administration is aiming for a reduction by 40% to 45% in methane emissions by 2025. Methane, which makes up an estimated of 10% of greenhouse emissions in the US, is far more harmful than carbon dioxide and is released as part of the growing US natural gas industry.
To meet this goal, the White House planning new regulatory rules across several departments - updated standards to prevent leakage for new gas and oil wells from the Environmental Protection Agency (EPA); a similar rule for wells on public lands from the Bureau of Land Management (BLM); and new pipeline safety rules from the transportation department.
Mr Obama will also request $15m in his 2016 for research on cost-effective technology that detects leaks.
Environmentalist have voiced support for the new rules, but are disappointed they do not apply to older wells. And the measures are expected to be fought by the oil and gas industries as unnecessarily hampering of a growing industry.
---
Better broadband
Most of the internet in the US is provided by private companies, and connection speeds are mixed. Mr Obama went to Cedar Falls, Iowa, a small city with broadband about 100 times faster than the national average, to propose programmes that would increase broadband internet adoption across the country.
Mr Obama called for the end of state laws that prevent municipalities from setting up internet networks, including organisations that function like a utility, a loan programme to provide financing to rural internet carrier to build out broadband infrastructure and a federal technical assistance programme.
He also is calling for increased funding for broadband in schools, a previous issue in past State of the Union speeches.
Why is broadband internet more expensive in the US?
---
Housing policy - Phoenix, Arizona
Mr Obama has taken broad execution action on issues like immigration, but he is using that power to make smaller changes to US housing policy.
In Phoenix, Arizona, a city whose housing market was badly hit by the financial crisis in 2009, he announced the Federal Housing Agency's (FHA) mortgage insurance premiums would be reduced by 0.5%.
The White House estimates this executive action would help first-time homebuyers save $900 on average each year, and also help some who are refinancing their mortgage. The administration hopes the change would encourage more demand in the housing market, especially in areas hard-hit by the recession.
But Republican critics in Congress say they are wary of lowering the price of government lending, given the FHA was bailed out two years ago, forcing premiums to rise.
"We are deeply concerned about placing the taxpayer in jeopardy by underpricing these government-guaranteed loans," Senators Bob Corker and David Vitter said in a letter to the administration.
Student debt crushes home-buying dream
---