NFL player Josh McNary charged with rape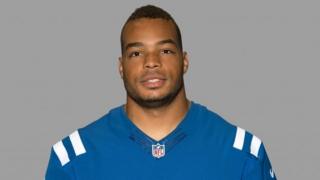 An NFL player has been charged with rape by prosecutors in Indianapolis.
Josh McNary, an Indianapolis Colts linebacker, faces charges of rape, criminal confinement and battery. The 26-year-old denies all the charges.
Peg McLeish, a spokeswoman in the city prosecutor's office, confirmed the charges but gave no details.
In 2013, the army graduate joined the Colts, who play New England in Sunday's AFC Championship game.
In a statement, the Colts said they were trying to establish the facts in the case.
The NFL has faced criticism recently for its handling of serious allegations against players, and penalties have subsequently increased.
There was uproar when Baltimore Ravens running back Ray Rice was initially given a two-match suspension for attacking his girlfriend, now his wife.
That was increased to an indefinite suspension but the harsher penalty was overturned in arbitration.
On Thursday morning, Mr McNary's lawyer issued a statement on behalf of his client.
"Joshua McNary unhesitatingly denies all accusations made against him.
"Following the public release of these allegations, Joshua immediately reported to law enforcement officials in a respectful and peaceful manner.
"The charges and affidavit publicly disseminated on Wednesday afternoon are not evidence of wrongdoing, but simply one side's story."