Elizabeth Gallagher travellers return home to Canada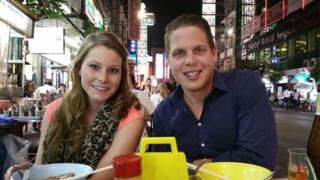 A plea by a Canadian looking for a travel partner with the same name as his ex-girlfriend became a global story. Now he and the stranger he found have returned. How did they get on?
In November, a Toronto-based man took to Reddit to ask "Are you named Elizabeth Gallagher?"
Jordan Axani had purchased a non-refundable round-the-world trip with ex-girlfriend of the same name, and was looking for a travel companion.
This week, he and student Elizabeth "Quinn" Gallagher of Cole Harbour, Nova Scotia, returned home from the three-week tour as "brother and sister," rather than the strangers they had been.
But they've rejected any notion that romance was involved. Ms Gallagher has a serious boyfriend and the large hotel chain that housed the pair during their trip gave them two suites at each stop.
The two travelled from New York to Milan, Venice, Vienna, Prague, Khao Lak, Thailand, and Hong Kong, both touring together and spending time apart.
"We probably got along better because we were strangers," Ms Gallagher told Canadian media. "We didn't have a relationship to break."
Their unlikely pairing challenged both as they toured together.
"Quinn liked to see the [landmarks] of different areas, and I liked to mingle where the locals hang out," Mr Axani told the BBC.
"I hate heights and everywhere we went, she took me to the highest thing possible - whether it was the highest level of the Eiffel Tower, or the highest bar in Bangkok - and she'd poke fun of me for my fear of heights."
Ms Gallagher on the other hand, had a knack for getting lost.
"I would get these tweets and emails from the strangest places on a quasi-frequent level," said Mr Axani, "of her being trapped in a stairway at the hotel or being lost in an airport or missing a train."
At one point in Prague, she had gone into a restaurant to use the ladies' room, but exited into the subway station, where Mr Axani says he found her locked in an unmarked room down a corridor.
"And that sort of characterised our relationship, and is a lot of where the big brother little sister thing came out."
The self-proclaimed siblings spent Christmas, for the most part, on their own.
The morning of the 25th, Ms Gallagher toured Vienna on a hop-on hop-off bus. At lunch, she tweeted "Families giving me sad looks because I'm eating alone on Xmas. HELLO I'm in #Vienna life is great! #TravelBrilliantly."
Ms Gallagher told the Toronto Star she and her boyfriend unfollowed each other on social media to protect his identity, but they were in touch throughout the trip.
Mr Axani spent the day working on a new charity organisation called A Ticket Forward that he envisions will help survivors of abuse, cancer and warfare take transformative trips of their own - something he'd been thinking on since before he left Canada.
That evening, both tried to share as much of what was going on with their families.
"We're both very close to our families, and here we're in this crazy situation together."
Later, they met with a group of ex-pats and locals and rode the Wiener Riesenrad, a "huge old rickety Ferris Wheel" near the Christmas market. Mr Axani said "Vienna is magical at Christmas - that was certainly the highlight."
Having returned to Canada on Monday, they appeared together on Canada's Global The Morning Show on Tuesday, before parting ways.
Ms Gallagher will return to classes at Dalhousie University this week.
"It was wild," she told The Morning Show. "And it's just because of my name - I have to thank my mother for that."
During media interviews, Mr Axani said he was in talks about a possible television or movie based on their journey.
Now both international celebrities, they hope to meet again, when Mr Axani goes to the east coast to visit friends.
"The amount of people on a personal level, who are deeply interested in our story, that will bond us for life," he said.