Five Guantanamo Yemeni inmates sent to Oman and Estonia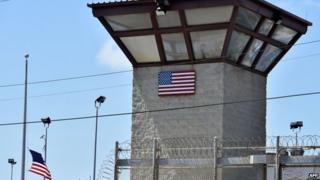 Five Yemeni men held at the US prison in Guantanamo Bay in Cuba for more than a dozen years have been transferred to foreign custody, US officials say.
Four were sent to Oman and one to Estonia. All were captured in Pakistan as suspected al-Qaeda fighters.
President Barack Obama has pledged to close the controversial prison, which was opened after the 9/11 attacks.
The latest release brings Guantanamo's prison population to 122. About half have been cleared for transfer.
The five men - in their 30s and 40s - were cleared for release since at least 2009, but US officials ruled out their return to Yemen, where the government is battling al-Qaeda rebels.
Their transfer is the latest in a wave of releases approved despite strong opposition from some Republican members of Congress who say Guantanamo inmates remain dangerous.
The detention centre was opened in 2002 to hold "enemy combatants" in what the US termed its war on terror.