Christopher Cornell denies US Capitol attack plan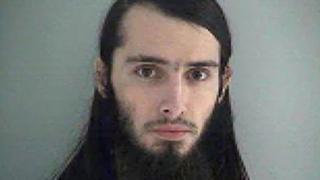 A man accused of planning to attack the US Capitol in Washington in an Islamic State-inspired attack has pleaded not guilty to all charges.
Christopher Lee Cornell appeared during a brief hearing in Cincinnati. He will continue to be held without bond.
The 20-year-old planned to "wage jihad" by attacking the Capitol with pipe bombs and then shooting people as they fled, the FBI said in court documents.
His tweets supporting extremist groups like Islamic State got their attention.
Two of the charges carry possible sentences of up to 20 years each.
They are the attempted murder of US officials and employees, and solicitation to commit a crime of violence.
The public was never in danger during this investigation, police said after the arrest.
Mr Cornell's father says his son may have posted angry messages about violent jihad, but he would not have been capable of carrying out an attack.
John Cornell told ABC that his son was only a recent convert to Islam after becoming "lost and vulnerable " at high school.