Mitt Romney will not run in 2016 election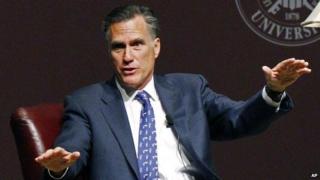 Mitt Romney, the Republican beaten by President Obama in the US 2012 election, has decided he will not run for president again.
Mr Romney, 67, said he had decided it was "best to give other leaders in the party the opportunity to become our next nominee".
His statement comes weeks after a surprise announcement saying he was considering another bid.
The decision not to run frees up donors to support other Republican candidates.
Former Florida Governor Jeb Bush, New Jersey Governor Chris Christie and Senator Rand Paul are among those who are considering a White House bid.
On the Democratic side, the presumed front-runner is former Secretary of State Hillary Clinton, although she has not made any announcement about campaigning.
Mrs Clinton previously ran for president in 2008 but lost the Democratic nomination to Mr Obama.
---
2016 runners and riders
No-one has formally declared but these are some of the names to watch:
early Republican frontrunner is Jeb Bush
but New Jersey Governor Chris Christie could battle Bush for the party's centre ground
darling of the Tea Party is Texas Senator Ted Cruz
firebrand liberal Elizabeth Warren is championed by many in the Democratic Party
libertarian Rand Paul has his supporters - and enemies - among Republicans
Hillary Clinton will have learnt much from her failed campaign of 2008
---
Mr Romney's campaign raised more than $1bn (£666m) in the 2012 election, when he unsuccessfully challenged President Obama.
He also lost the 2008 Republican nomination to Senator John McCain.
In a statement made during a phone call to donors, Mr Romney said he was "convinced that we could win the nomination", but added that "one of our next generation of Republican leaders... may well emerge as being better able to defeat the Democrat nominee".
He said it was a tough decision for him and his wife, Ann, "but we believe it is for the best of the party and the nation".
---
Analysis, Nick Bryant, Washington
The shiny black hair, the quarterback smile, the lantern jaw. Mitt Romney has never had any difficulty looking like an American president. But getting voters to elect him to that job has long been a problem.
In 2008, he failed in his first attempt to win the Republican presidential nomination partly because he was seen as inauthentic: a moderate Republican who had been governor of liberal Massachusetts.
In 2012, when he won the nomination but failed to dislodge President Obama, it was his image as an out-of-touch millionaire, more so than his Mormonism, that hobbled his candidacy. A leaked video sounded the death knell. It showed him maligning 47% of the electorate as being dependent on the government (in an ironic twist, Romney won 47% of the vote, compared with Barack Obama's 51%).
At a time when income inequality and stagnant middle class incomes look set to dominate the next presidential race, it would have been hard for him to reinvent himself.
---
Mr Romney reportedly discovered after floating a potential run three weeks ago that several of his key fundraisers had decided to support Mr Bush, according to the Associated Press news agency.
Jeb Bush - the son of a former president and brother of another - announced in December he was "exploring" a run.
After Mr Romney's announcement Mr Bush tweeted "Mitt is a patriot and I join many in hoping his days of serving our nation and our party are not over."