Large cache of US chemical weapons to be destroyed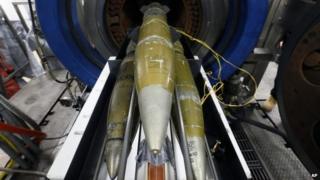 The US is set to destroy its largest remaining cache of chemical-laden artillery shells, bringing it closer to complying with an international treaty.
The Pueblo Chemical Depot in Colorado will begin neutralising mustard agent in 780,000 shells in March.
The 1997 Chemical Weapons Convention set a 2012 deadline to eradicate chemical weapons
Russia, Libya and Iraq are the only other countries with chemical weapons that have missed the deadline.
Libya expects to finish in 2016 and Russia in 2020, according to the Organisation for the Prohibition of Chemical Weapons. Iraq has no clear timeline.
"The start of Pueblo is an enormous step forward to a world free of chemical weapons," said Paul Walker, of Green Cross International, who has tracked chemical warfare for more than 20 years.
The UN has said the Syrian government used nerve gas in an attack killed 1,400 people in Syria in 2013. A chlorine attack last year in Syria killed 13.
The US amassed more than 27,700 metric tonnes of chemical weapons, both mustard agent and deadly nerve agent, much of it during the Cold war.
The country never used them in warfare and 90% has been destroyed.
The shells at Pueblo contain more than 2,350 metric tonnes of mustard agent, which can maim or kill, blistering skin, scarring eyes and inflaming airways.
The US Army will destroy the weapons by placing them in a sealed steel chamber nine inches (23cm) wide, where explosives will tear open the shells and the mustard agent will be neutralised with chemicals.