Ukraine crisis: Pentagon 'chief' inclined to send weapons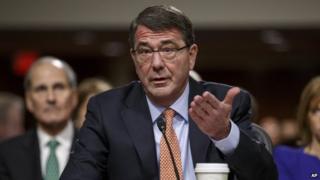 The White House's pick for defence secretary has said he is "inclined" to send weapons to Ukraine to fight against Russian-backed rebels.
Ashton Carter's remarks came at his confirmation hearing before a Senate panel, as successor to Chuck Hagel.
The US has so far only provided "non-lethal" assistance to Ukraine, like night-vision goggles and radios.
But President Barack Obama is said to be reconsidering his position, accusing Russia of escalating the conflict.
Russia denies accusations by Ukraine and the West of arming the separatists and sending its regular troops across the border.
Fighting has intensified in recent weeks in Ukraine's eastern Donetsk and Luhansk regions - leaving a September ceasefire in tatters. On Wednesday, three people were killed and many wounded when a shell hits a hospital in the rebel stronghold of Donetsk, local officials said.
Fighting also continued around the key government-held town of Deblatseve, north-east of Donetsk.
EU foreign policy chief Federica Mogherini appealed for a truce to allow civilians to leave the area
'President interested'
Mr Carter, who previously served as deputy secretary of defence, appeared in front of the Senate Armed Service committee to be questioned before a wider Senate vote.
"I'm very much inclined in that direction, mister chairman, because I think we need to support the Ukrainians in defending themselves," Mr Carter said when asked by Senator John McCain if he supported delivering "defensive weapons" to Ukraine.
"The nature of those arms, I can't say right now," he added.
White House spokesman Josh Earnest later stressed that President Obama - not Mr Carter - would make the final decision on the issue.
But Mr Earnest added: "The president is certainly interested in the view, the opinion and the insight of his national security team, including what we hope will be his soon-to-be-confirmed new secretary of defence, and the president will certainly take that advice into account".
The White House has accused Russia of fighting a proxy war - but has reportedly feared that sending in weapons could trigger a tense confrontation with Russia and escalate the conflict.
However, earlier this week a group of former senior US officials and officers urged a major increase in military assistance, including providing light-armour missiles designed to take out tanks and armoured vehicles.
And on Tuesday, a group of US senators called on President Obama and Nato "to rapidly increase military assistance to Ukraine to defend its sovereign borders against escalating Russian aggression".
Fighting in east Ukraine began last April, when separatists seized government buildings after Russia annexed Ukraine's southern Crimea peninsula.
More than 5,000 people have been killed in the conflict.