Harvard University bans relationships between students and professors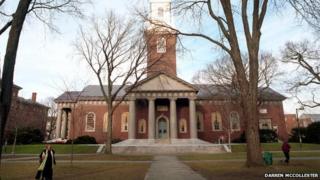 Harvard University has introduced a total ban on relationships between professors and students.
Staff said they introduced the ban after considering how "power dynamics can contribute to sexual harassment".
Harvard's previous ban on staff-students affairs only applied if couples were in the same class.
A committee which drafted the guidelines concluded the university needed to strengthen its language on "relationships of unequal status".
Harvard University is not the only higher education college in the US to introduce such a ban.
Its rival Yale did so in 2010, as did the University of Connecticut in 2013.
Based in Cambridge near Boston, Harvard has about 2,400 faculty members and about 6,700 undergraduate students
Last May the institution appeared on a US government list of 55 institutions which had allegedly mishandled harassment complaints.
In an email, Alison Johnson, a history professor who led the committee which helped revise the guidelines, told the Associated Press news agency: "We wanted to emphasize that the central characteristic of any relationship between a professor and an undergraduate in the College should be pedagogical."