Alabama gay marriage begins in some counties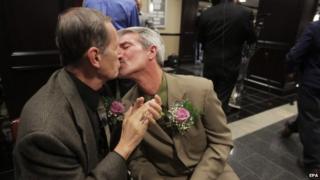 Judges in some counties in Alabama have begun issuing marriage licences to gay couples, despite the state's top judge ordering them not to.
Chief Justice Roy Moore said judges were not bound by a federal ruling lifting the state's gay marriage ban.
But many counties began marrying couples after the US Supreme Court refused to put marriages on hold.
It means Alabama becomes the 37th US state to legalise same-sex marriage, ahead of a nationwide ruling this year.
But local media reports suggested that at least 11 of Alabama's 67 counties refused to issue marriage licences.
Judge Moore has been one of the state's most outspoken critics of gay marriage. He called homosexuality an "inherent evil'' in a 2002 custody ruling against a lesbian mother.
But on Monday morning, the high court's ruling meant he was powerless to stop it.
In Birmingham, one of the first licences went to Dee and Laura Bush, who have been together for seven years and have five children between them.
They wed in a park outside the courthouse where a minister was performing ceremonies.
"It is great that we were able to be part of history," said Dee Bush.
---
Still banned...
Arkansas, Georgia, Kentucky, Louisiana, Michigan, Mississippi, Missouri, Nebraska, North Dakota, Ohio, South Dakota, Tennessee, Texas
---
Judges elsewhere were wary or defiant following the federal ruling.
Colbert County Probate Judge Douglas Rosser told AL.com he was accepting applications but would not issue licences until there was further clarification.
"There's a conflict, and I want to follow the law," Judge Rosser said. "But it is difficult this morning to follow the law."
One county judge refused to issue any licence not between "one man and one woman only, so help me God", while others declared they would not be marrying any couple - gay or heterosexual.
On 23 January, Judge Granade said Alabama's ban on gay marriage was unconstitutional and should be lifted.
The order was put on hold until 9 February to let the state prepare for the change.
It was the latest in a wave of similar federal rulings across the United States.
In November, however, a federal appeals court based in Cincinnati decided to uphold bans on gay weddings in Kentucky, Michigan, Ohio and Tennessee.
The conflicting rulings among the appeals courts have prompted the US Supreme Court to hear the case later in the year.