Alabama gay marriage rollout in chaos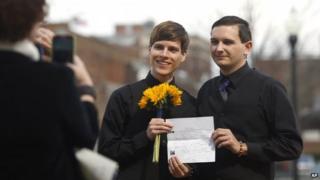 Gay couples can be wed in only some parts of Alabama after the state's chief justice issued an order to stop judges from granting licences.
The Supreme Court has refused Alabama's request to stop the marriages.
But some counties have followed the order of Chief Justice Roy Moore and will not grant marriage licences to same-sex couples.
Judges in other parts of in the conservative state have stopped conducting weddings altogether.
In one of the counties refusing to hold marriages, Autauga County, a female minister was arrested after offering to perform a same-sex marriage at the judge's office.
Anne Diprizio was charged with disorderly conduct after refusing to leave when asked, the Montgomery Advertiser reports.
Many same-sex couples living in the affected counties travelled to major cities such as Montgomery and Birmingham to get marriage licences.
But at least six gay couples, who had hoped to marry, filed federal lawsuits after Mobile County's marriage licence division did not open on Monday.
---
The signals from the Supreme Court
"They effectively admitted what court-watchers have suspected for months: The court is preparing to rule in favour of nationwide marriage equality at the end of this term." Slate
"It seems obvious that every gay marriage that takes place makes it more difficult to rule against gay marriage in the end," said Brian Fitzpatrick, law professor at Vanderbilt University.
"What makes this significant is that is serves as a signal that the upcoming cases on homosexual marriage are pro forma, a farce, a charade designed to let the rubes think they've been heard while the big brains on the Supreme Court tell us what is best for us." RedState.com
---
"It's my duty to speak up when I see the jurisdiction of our courts being intruded by unlawful federal authority," Judge Moore said on Monday.
Although he does not support gay marriage, Alabama Governor Robert Bentley, a Republican and a Southern Baptist, said the issue should be "worked out through the proper legal channels".
Judges who have refused to grant licences say they are confused by the conflicting orders from Judge Moore and federal authorities.
Some have compared Moore's arguments of unlawful federal authority to the upheaval that gripped Alabama and other Southern states as black people fought against segregation in the 1960s.
Despite a landmark 1954 Supreme Court ruling outlawing such segregation, then-Alabama Governor George Wallace tried fruitlessly to block blacks from enrolling in previously all-white university and schools.
---
Still banned...
Arkansas, Georgia, Kentucky, Louisiana, Michigan, Mississippi, Missouri, Nebraska, North Dakota, Ohio, South Dakota, Tennessee, Texas
---
Judge Moore has been one of the state's most outspoken critics of gay marriage. He called homosexuality an "inherent evil'' in a 2002 custody ruling against a lesbian mother.
On 23 January, Federal Judge Callie Granade ruled that Alabama's ban on gay marriage was unconstitutional and should be lifted.
The order was put on hold until 9 February to let the state prepare for the change.
Conflicting rulings across the US appeals courts have prompted the US Supreme Court to hear the case later in the year.
But their ruling in Alabama against the marriage ban means many commentators believe the nationwide ruling will do the same.
One of the dissenting Supreme Court justices, Clarence Thomas, said himself the order reveals the court's intention.
"This acquiescence may well be seen as a signal of the Court's intended resolution of that question," Thomas wrote.