Fleeing war, Syrians make a new life in New Jersey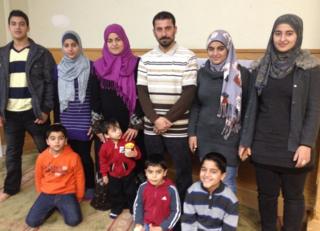 Geographically and culturally, the town of Paterson, New Jersey, is a world away from Syria.
But the town, an hour's train ride from New York City, is home to one of the largest Arab populations in the United States, and a long-established Syrian-American community.
So on a Friday night, the Islamic Center of Passaic County in Paterson is a busy place. After evening prayers, there is a buzz in the kitchen at dinnertime.
The Alzouabi family has come to the mosque and community centre with all eight of their children in tow, and on their best behaviour.
Their children range in age from four-year-old Mamoun to 16-year-old Huda. Fatin, their mother, has made traditional Syrian food in large foil trays - barley cooked with lentils and onions - with ingredients from the local Middle Eastern food stores.
The Alzouabis are newcomers in this community. Almost two years ago, they fled the war in Syria and their hometown of Daraa.
Mahmoud Alzouabi, the father, clearly remembers the day he left Daraa. "There was an explosion that day," he recalls. "They were using barrel bombs and heavy artillery in the fighting. We lived in a situation where we could be detained at any moment without warning."
The girls are old enough to remember living in fear in Daraa: being sent to shelters when the shelling began, and of keeping a daily tally of deaths.
"Of course we are lucky to be here," Fatin says. "Imagine how our children lived under rockets and bombardment. But we see how much our families there are still suffering."
The Alzouabis are among the lucky few, says Hamid Imam, a community activist and the office manager of the Islamic centre. "The U.S. has not exactly been welcoming to Syrians," he says.
Despite the American government's rhetoric against Bashar Al-Assad, only a small number of Syrian refugees have been allowed into the US since the war began in 2011.
A worsening humanitarian situation in Syria has created more than three million refugees, who have fled to neighbouring countries like Turkey and Lebanon.
Humanitarian groups have pressed Western governments to take more Syrian refugees. In December, the UN refugee agency asked for pledges from rich countries to accept higher quotas in order to relieve the pressure on camps in the region.
"It's nearly impossible to get a visa to the US" Mr Imam says. "And if they do, there's limited government assistance in terms of food stamps and rental assistance, for example."
The larger network of the Syrian-American community means that some help is available for newcomers. "Everything from knowing a guy who has a vacant apartment to organizing some extra blankets," Imam says. "We have paid a month's rent for a family sometimes. But we are a community centre with limited resources."
Leaving their family and country was difficult, but settling into life in New Jersey has also thrown many challenges at the Alzouabi family. There is a daily struggle with the lack of money and language skills to add to the trauma of war and the loss of the family they left behind. The children all say they do like America - but miss their friends and their home in Daraa.
In Syria, Mahmoud Alzouabi worked as a technician in the government-run water services department. In New Jersey, he is head custodian at the Islamic centre. "Many landlords refused to rent me an apartment because of the size of my family," he says "Now I am forced to rent a bigger house, which I can not afford."
Another Syrian who came from Damascus is Khalid, who would only give his first name because he still has family in Syria. "I'm one of the lucky ones," he says. He came to the US three years ago on a visitor visa, to see his uncle in New Jersey; he applied for and was granted asylum after he got to the US.
'Fear factor'
Khalid says he knows many other Syrians who have been waiting almost two years for a decision on their immigration status; their lives are on hold until they find out if they can live here.
Khalid is resigned to the fact that he might never go back. But he says, had he stayed in Syria, he would have been conscripted into the army. "I knew I'd be killing people," he says.
Mr Imam says there are about a hundred new arrivals from Syria in the area. His attempts at creating a database have met with limited success, because of people's reluctance to identify themselves in case it endangers their families back in Syria.
"People don't want to come out and say we're here, we need help," he says. "The fear factor plays a big role."
However, an influx of Syrian refugees is expected in the US in 2015. At the UN-sponsored conference in Geneva in December, the US State Department said it is considering 9,000 refugee resettlement applications from Syria.
Mr Imam is Syrian-American, and came to the US as a child in 1999. He was galvanized by the uprising in Syria. "I learned a sense of community with the start of the Syrian revolution in 2011," he says. "That was a moment of change for me."
As an activist, Imam often leads rallies in Times Square in New York. This past year he has also organized Ramadan Iftar dinners and picnics to help newcomers feel welcome and supported.
"The community is very depressed right now," he says. "We need to keep the kids away from the news of the killing and the blood. They need to see some kind of hope."