Amanda Knox, convicted of Kercher murder, 'to marry'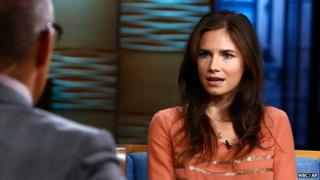 Amanda Knox, the former US student who has been convicted in Italy over the murder of her British flatmate, is to get married to a musician, reports say.
Knox is engaged to Colin Sutherland, whom she has known since her school days, according to the Seattle Times.
Her conviction for the 2007 murder of Meredith Kercher was reinstated in absentia by an Italian court last year.
Knox, who returned to the US after her original conviction was overturned, has always maintained her innocence.
Ms Kercher, from Coulsdon, south London, was stabbed to death in the flat she shared in Perugia with Knox.
Rudy Guede from Ivory Coast, who was also convicted of her murder, is currently serving a 16-year sentence in prison.
Knox was also arrested days after the murder, along with her Italian boyfriend at the time, Raffaelle Sollecito. Both pleaded not guilty to the offence.
They were tried and convicted in 2009.
However, in 2011, an eight-member jury cleared both defendants of the murder, after doubts were raised over procedures used to gather DNA evidence.
A retrial was ordered after prosecutors argued that important evidence had been disregarded. In 2014, the guilty verdict was reinstated.
Knox has said she will not voluntarily return to Italy. Sollecito remains in the country.
An Italian court will rule in March on whether to uphold the latest verdict.