Chelsea Manning's hormone therapy approved by US Army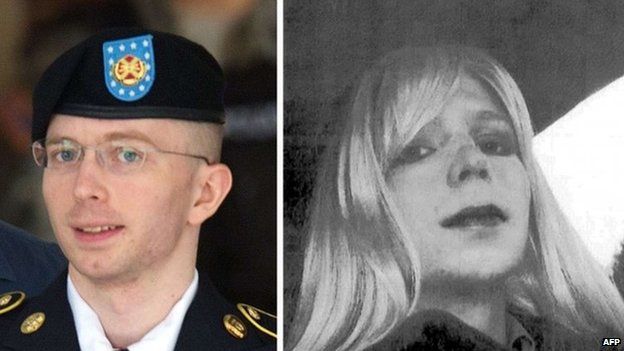 Pte Chelsea Manning has been approved for hormone therapy while in a US military prison, her lawyers confirm.
Manning previously sued for treatment in order to live as a woman during her 35-year prison sentence.
The soldier formerly known as Bradley Manning was convicted in 2013 for leaking thousands of secret US files to the whistle-blowing website Wikileaks.
Her lawyer said that while the move was an "important first step", the delay had come with a "significant cost".
"We are thrilled for Chelsea that the government has finally agreed to initiate hormone therapy as part of her treatment plan," Chase Strangio, a lawyer with the American Civil Liberties Union said in statement.
"We are hopeful that the government continues to meet Chelsea's medical needs," Mr Strangio said, but added the Army had not approved a request for Manning to wear her hair long.
Manning, who legally changed her name in 2014, remains a soldier until her prison term ends.
Pte Manning has been diagnosed by military doctors with gender dysphoria, the sense of one's gender being at odds with the sex assigned at birth.
The US military is required to offer medical treatment to its soldiers, but Pentagon policy prohibits transgender people from serving openly in the military.
The Federal Bureau of Prisons and local agencies have treated their inmates with hormone therapy, but Manning is the first transgender military prisoner to request such treatment.
In a 5 February memo, first reported by USA Today, Col Erica Nelson, the commandant of the Fort Leavenworth military prison, wrote she approved the treatment "after carefully considering the recommendation that [hormone treatment] is medically appropriate and necessary, and weighing all associated safety and security risks presented".
Manning was also announced as a contributing opinion columnist for UK newspaper the Guardian this week.