Pennsylvania governor imposes death penalty moratorium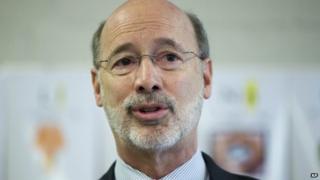 The newly-elected governor of the US state Pennsylvania has imposed a moratorium on the death penalty.
Tom Wolf said the decision was not out of sympathy for convicted murderers, but because the system was "ineffective, unjust and expensive".
His action grants a reprieve to Terrance Williams, who was scheduled to be executed on 4 March.
More than 180 people are currently on Pennsylvania's death row but no-one has been executed since 1999.
Mr Wolf said the moratorium will remain in effect until a panel investigating capital punishment in the state has "produced its recommendation and all concerns are addressed satisfactorily".
"Today's action comes after significant consideration and reflection," he said in a statement.
Mr Wolf has said he would make such an order since his election campaign against former Governor Tom Corbett.
The decision will not commute the death penalty sentence of those sentenced to execution in the state, but will allow them a reprieve.
Executions in the US are at a 20-year low after states have experienced difficulty sourcing the drugs required.