Chapel Hill: Obama condemns 'brutal and outrageous murders'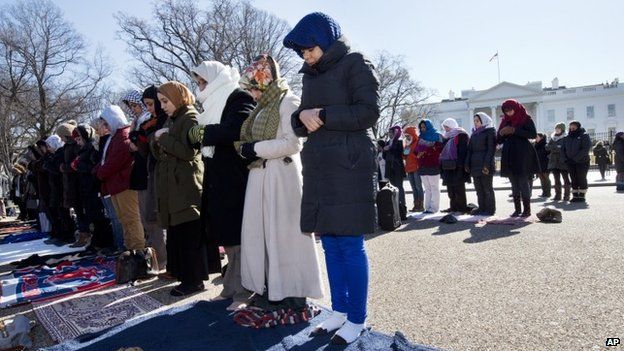 US President Barack Obama has denounced the killing of three Muslim students in Chapel Hill, North Carolina as "brutal and outrageous murders".
In a statement, Mr Obama said no one in the US should be targeted for "what they look like" or "how they worship".
His comments came after criticism from Turkish President Recep Tayyip Erdogan over Mr Obama's silence on the case.
With a suspect in custody, police are still investigating the motive, amid family claims it was a hate crime.
The FBI has opened an inquiry into the case.
Deah Shaddy Barakat, his wife Yusor Mohammad Abu-Salha and her sister Razan Mohammad Abu-Salha were found dead on Tuesday evening in their home near the University of North Carolina, where Mr Barakat was a dental student.
Craig Hicks, a neighbour of the students, has been charged with the murders. Mr Hicks' Facebook profile included a photo that read "Atheists for Equality". He also frequently posted quotes critical of religion.
But Mr Hicks' wife Karen said the incident had nothing to do with religion and her husband treated everyone equally.
Mr Obama called the murders "brutal and outrageous" and said the FBI would be investigating whether any "federal laws were violated".
"Michelle and I offer our condolences to the victims' loved ones," he said.
"As we saw with the overwhelming presence at the funeral of these young Americans, we are all one American family."
More than 5,000 people attended a funeral on Thursday for the three students.
Neighbours told the BBC Mr Hicks was involved in a series of parking disputes. Police also said that their initial investigation showed that there had been an ongoing parking dispute.
But the BBC's Rajini Vaidyanathan said many mourners at the funeral feel the murders were sparked by something far deeper than a parking row.
Family members of the victims say Mr Hicks had previously "picked on" the married couple and deliberately showed his firearm.
Chapel Hill police have said they will investigate every lead, including the possibility of hate crime.
On Thursday, the Turkish president criticised Mr Obama and other top US officials for having not made any statement.
"If you stay silent when faced with an incident like this, and don't make a statement, the world will stay silent towards you," he said.
Mr Erdogan is a devout Sunni Muslim who has been increasingly critical of the treatment of Muslims living in Western societies.