New round of US-Cuba talks announced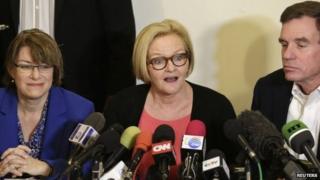 Historic talks over normalising diplomatic relations between the US and Cuba will continue on 27 February, the state department has confirmed.
The discussions will happen at US state department headquarters in Washington DC, spokeswoman Jen Psaki has said.
The last set of talks in Havana ended "positively" but without a concrete date for opening embassies.
President Barack Obama announced the US would move towards normalising relations with Cuba in December.
While Mr Obama has moved to remove some trade and travel limitations between the countries, it will take an act of Congress to end the US embargo.
The move comes as some US lawmakers visited Havana on Tuesday.
"I can envision ships sitting at Mariel with containers of the finest food produced in the world, coming from my state to Cuba, if we can continue to move this complicated and difficult process along towards normalisation," Missouri Senator Claire McCaskill told reporters.
The last set of talks ended with both sides agreeing to meet again.
The top US diplomat at the talks, Roberta Jacobson, said normalising relations after decades of hostilities would take time.
The Cuban delegation chief, Josefina Vidal, said lifting the economic blockade against Cuba was essential.
Cuban officials have also said the US must remove Cuba from the state sponsors of terrorism list before diplomatic relations can be fully re-established.