Jeb Bush: 'I'm my own man' on foreign policy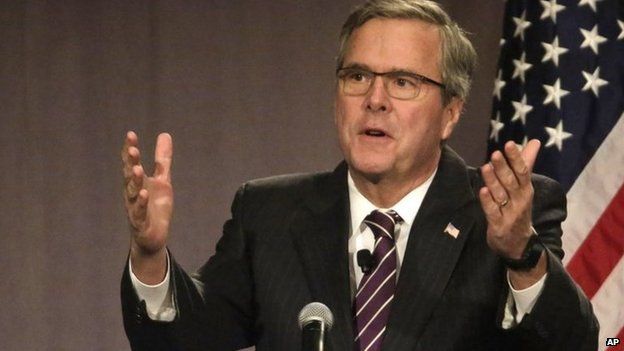 Former Florida Governor Jeb Bush has said he admires his father and brother's presidencies but he is his "own man" on foreign policy.
In a speech in Chicago, Mr Bush outlined a broad strategy of projecting American power and addressing "the shortfalls in our defence spending".
He also criticised President Barack Obama for an "inconsistent and indecisive" foreign policy.
Mr Bush is one of several Republicans expected to run for president in 2016.
He is the brother of former President George W Bush and son of former President George HW Bush.
The former Florida governor has developed campaign infrastructure but has not officially said he is running.
In the speech to the Chicago Council on Global Affairs, Mr Bush says he has been "lucky" to have family who "have shaped America's foreign policy from the Oval Office".
"I recognise that as a result, my views will often be held up in comparison to theirs," Mr Bush said.
"But I am my own man - and my views are shaped by my own thinking and own experiences."
The Washington Post reported 19 of 21 Mr Bush's foreign policy advisors are pulled from his brother and father's administrations, although many were also considered as advisors to Mitt Romney before he backed out of a run.
And Mr Bush has demurred from answering whether he believes his brother's choice to go to war in Iraq was appropriate.
During the speech, he criticised Mr Obama as someone who "has left America less influential in the world".
"I believe fundamentally that weakness invites war … and strength encourages peace," Mr Bush said.
The former governor also expressed concern over negotiations with Iran over its nuclear programme and backed the National Security Agency's bulk collection of telephone metadata records of Americans.
No-one has formally declared but these are some of the names to watch:
early Republican frontrunner is Jeb Bush
but New Jersey Governor Chris Christie could battle Bush for the party's centre ground
darling of the Tea Party is Texas Senator Ted Cruz
firebrand liberal Elizabeth Warren is championed by many in the Democratic Party
libertarian Rand Paul has his supporters - and enemies - among Republicans
Hillary Clinton will have learnt much from her failed campaign of 2008