Rabbi Barry Freundel admits filming women at Washington baths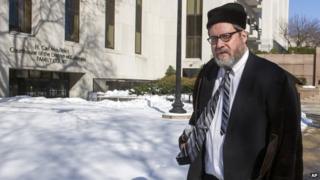 A prominent US rabbi has pleaded guilty to 52 counts of voyeurism after secretly filming women in his congregation's ritual baths.
Barry Freundel, 63, may have recorded as many as 150 women in the changing area at his orthodox synagogue in Washington DC.
The women were disrobing for the ritual Jewish bath, known as a mikvah.
He has confessed to recording at least 52 nude or partially nude women. Prosecutors say he should be jailed.
They say the actual number of women filmed is likely to have been much higher.
Before his arrest in October 2014, Barry Freundel was a rabbi at the Kesher Israel synagogue in the Georgetown area of the US capital for more than 25 years.
He was arrested after a person associated with the synagogue's baths, the National Capital Mikvah, discovered the hidden camera.
The rabbi has now been fired from the synagogue, which occupies a prime spot in a wealthy area of Washington and has numbered Treasury Secretary Jack Lew and ex-Senator Joe Lieberman among its congregants.
Court documents revealed that Freundel set up a recording device hidden within a digital clock radio in the changing and showering area.
He was initially charged with six counts of voyeurism, but a search of his home uncovered additional material on other media storage devices.
Prosecutors determined that more women had been taped and increased the charges.
Each misdemeanour charge is punishable by up to a year in jail, and prosecutors said they would seek a prison sentence.
"We will be seeking a prison sentence that reflects the gravity of this disturbing assault on the privacy and dignity of so many victims," US Attorney Ronald Machen said.
A closed-door meeting for victims was last week told that Freundel had taped more than 150 women, though a statute of limitations prevented them from charging him with many of the tapings.