Maureen McDonnell sentenced to one year for corruption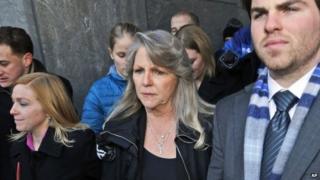 The former First Lady of Virginia, Maureen McDonnell, has been sentenced to one year and one day in prison for her part in a corruption case.
McDonnell was convicted, alongside her husband, for taking more than $165,000 (£107,000) in exchange for promoting a vitamin firm.
Her husband, former Virginia Governor Bob McDonnell, was sentenced to two years in January.
Both remain free pending an appeal against their convictions.
In court on Friday, McDonnell apologised to her family and Virginians, saying said she takes full responsibility for her mistakes.
"I would ask in your sentence today that you consider the punishment I've already received," she said.
"My marriage is broken, my family is hurting and my reputation is in shatters."
The six-week trial exposed the McDonnell family's strained marriage and shaky finances.
Jurors heard the former governor was in financial need and traded on his position to win gifts of travel and cash from Star Scientific chief executive Jonnie Williams, in exchange for promoting his company's nutritional supplements.
Mr Williams testified, under immunity, that Mrs McDonnell asked him for money and to pay for high-end shopping trips, offering to connect him to the governor in return.
Defence lawyers argued the McDonnells could not have conspired to extract bribes from Mr Williams because they were barely communicating.
Prosecutors had requested a 18-month prison term, while the defence requested 4,000 hours of community service and probation.
On Friday Judge James Spencer called the case "puzzling and bizarre". He said there appeared to be two versions of Maureen McDonnell - a loving mother and devoted wife but also the first lady "who belittled and terrorised employees'' at the Virginia executive mansion.