Nascar suspends star driver Kurt Busch over 'assault'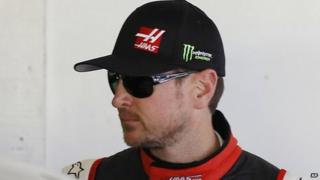 Nascar has suspended star driver Kurt Busch indefinitely after a court ruling that he had probably physically abused his former girlfriend.
The move means the 36-year-old will miss Nascar's premier event - the Daytona 500 - on Sunday.
A judge in Delaware earlier ruled that it was more likely than not that Busch abused Patricia Driscoll by "manually strangling her" and smashing her head into a wall last year.
Busch was the 2004 Sprint Cup winner.
"Given the serious nature of the findings and conclusions made by the Commissioner of the Family Court of the State of Delaware, Nascar has indefinitely suspended driver Kurt Busch, effective immediately," a Nascar statement said.
"He will not be allowed to race nor participate in any Nascar activities until further notice," it said, adding that the driver was aware of the decision.
Ms Driscoll alleges the driver grabbed her by the neck in a motor home at Dover International Speedway in Delaware in September and repeatedly hit her head against a wall.
Busch - who competes for the Stewart-Haas Racing team - has denied the alleged physical assault.
He is the first driver to be suspended by Nascar for alleged domestic violence.
Busch's lawyer Rusty Hardin said: "We are extremely disappointed that Nascar has suspended Kurt Busch and we plan an immediate appeal.
"We assure everyone, including Nascar, that this action against Mr Busch will turn out to be a travesty of justice."
In 2012, Busch was temporarily suspended for violating Nascar's policy forbidding swearing in public.