US hostage policy reviewed as Qatari emir visits Obama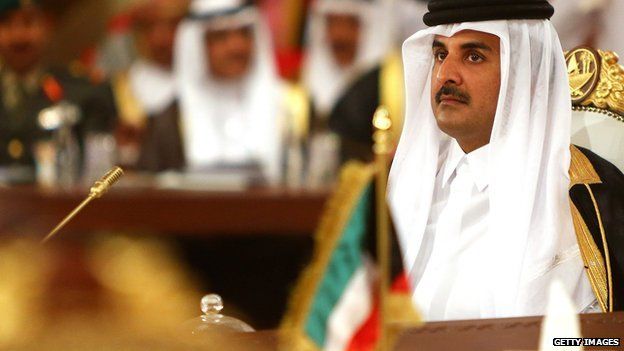 Qatari Emir Sheikh Tamim bin Hamad Al Thani is expected at the White House on Tuesday. His visit comes at a time of intense discussions about US hostages and negotiations for their release.
On Monday, Carl Mueller spoke on NBC's Today show about his daughter Kayla, an aid worker who was held by Islamic State in Syria. Her death was confirmed on 10 February.
Mr Mueller seemed frustrated, to put it mildly, with US policies regarding hostages.
"They put policy in front of American citizens' lives," he said. His anguish was palpable.
US officials do not pay ransoms or negotiate with militant organisations for the release of hostages. Yet deals are made.
That is where the Qatari authorities come in.
They acted as intermediaries between the US and the Taliban, reaching an agreement in which a soldier, Army Sgt Bowe Bergdahl, was freed in May. In exchange five former Taliban commanders were released from Guantanamo.
Qatari officials also helped negotiate the release of an American writer, Peter Theo Curtis, who was held by al-Qaeda's branch in Syria, the Nusra Front. He was freed in August after nearly two years in captivity.
At the time White House officials said they were happy about the role Qatari officials played in securing his release - and that US principles were unsullied.
"We asked the Qataris, consistent with our longstanding policy, to not pay a ransom," said Josh Earnest, the White House press secretary, at a briefing. He said providing ransoms would subsidise "terrorist organisations".
White House officials say the no-ransom policy is clear. In the real world, though, things are fuzzy.
Bergdahl was freed in a prisoner swap. People who are familiar with the Curtis case say money was not handed over in exchange for his release. Yet there are ways to facilitate negotiations that don't involve cash.
"We do not deal with terrorists," says Rick Brennan, a political scientist at the RAND Corporation. Still hostage negotiations are complex, he says, and at times free-wheeling.
"There are things that happen - quid pro quo and under the table," says Brennan. "This is when you get into the murky situation that Qatar is in."
Even in the US, hostage policies are interpreted in different ways. Officials are never supposed to negotiate with terrorists.
Yet traditionally FBI agents have worked with families to bring loved ones home - occasionally assisting them during the complex process of negotiating a ransom.
But after the 2001 al-Qaeda attacks, officials became more careful during hostage situations - and reinforced a no-ransom policy. White House officials have been particularly strict. This has made it harder for them to help the families.
Yet some individuals at the FBI apparently follow the old rules.
In one case the director of an international organisation contacted the US government after an American - someone he knew - was kidnapped while working abroad.
An FBI agent got on the phone. "The first thing he said was, 'How much can you pay?'" the director told me over drinks at a Washington restaurant.
Many people say the policy regarding hostages is hypocritical. They say officials are willing to negotiate for the release of some hostages, but not others.
Mr Mueller said while he was trying to get his daughter released, he asked Mr Obama about the Bergdahl deal. Mr Mueller seemed frustrated by the answer - and by the no-ransom policy.
Speaking at a briefing on Monday, Mr Earnest said he knew the policy seemed harsh. "That did put her family in a very difficult situation," he said.
Earlier this month I asked Susan Rice, the national security adviser, about the policy regarding hostages. She said they were reviewing ways they could support the family members.
"Frankly this is an area which the president believes we can do better," she said.
Related Internet Links
The BBC is not responsible for the content of external sites.