With their letter to Iran, US senators show 'chutzpah'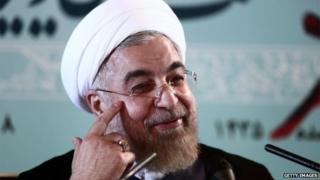 Some call it bold. Others call it insipid. One thing is true: a letter that Republicans wrote to Iran's leaders is unprecedented.
Even those who find fault with Mr Obama's foreign policy - and don't like the way he has tried to make a deal with Iran - think the letter is misguided.
Mr Obama believes in working towards an agreement with Iran's leaders - and that this will help keep them away from a nuclear bomb.
Forty-seven Republican senators disagree - and are trying to stop the deal from going forward. In the letter they say any deal with Iran must have their approval, or it could be nullified by the next president.
The letter is unusual. It may even be, as American University's Stephen Vladeck, a professor of law, says, "unprecedented in the annals of American history".
Members of Congress frequently weigh in on US policy. That's part of their job. But reaching out to foreign leaders in this manner breaks ground.
"I haven't seen a congressional intervention like this," says Matthew Waxman, a former US defense department lawyer.
Aside from unprecedented, the letter is unpopular. The New York Daily News splashed the headline "Traitors" across its front page on Tuesday, echoing thousands of similar comments on social media.
Robert Danin, a former US state department official who is now a senior fellow with the Council on Foreign Relations, says: "It's a pretty brazen act." The letter, he says, is "unusual and dangerous".
In principle it's nothing new. Lawmakers are political - and try to shape foreign policy.
As the American Enterprise Institute's Norman Ornstein points out in Foreign Policy, people on the campaign staff of Richard Nixon worked to sabotage US efforts to bring the Vietnam war to an end.
In addition, Mr Ornstein explains, staff members who worked for US Senator Jesse Helms tried to meddle with negotiations that turned Rhodesia into Zimbabwe.
---
Controversy over Iran - and Congress
3 March - invited by House Speaker John Boehner, Prime Minister Benjamin Netanyahu of Israel gave a speech about Iran before Congress (the invitation was "unconstitutional", wrote Elizabeth Cobbs Hoffman for Reuters)
9 March -Senate Republican write their letter to the leaders of Iran
10 March - Hillary Clinton attacks the authors of the letter, saying the letter seems "harmful to the commander-in-chief"
---
Yet the letter is different, partly because it's more ambitious. Mr Danin believes the letter-writers were trying "to both weaken the president within the administration and also his overall standing to conduct foreign policy".
The authors of the letter sound as though they are trying to be helpful, at least to Iranian leaders. They say they believe the Iranians "may not fully understand our constitutional system". The authors attempt to describe the system, and in the process they get things wrong.
Despite what the authors claim in their letter, the Senate does not ratify treaties. Members of the Senate give their advice and consent. The president signs off.
"The letter lectures Iranian leaders on how our constitutional system works, and it's done in a way that mis-describes our system," says Mr Vladeck. "You might call that the very definition of chutzpah."
Brazen - and perhaps illegal. As Mr Vladeck wrote on Lawfare, the Logan Act forbids Americans from corresponding with foreign governments "with intent to influence".
Some critics of Congress say the senators could be prosecuted. Mr Vladeck believes that's possible - but unlikely.
In the end the consequences of the letter may not be felt in the realm of law or foreign policy, as its authors may have envisioned - but elsewhere.
"What we're looking at here is political fallout - not legal fallout," Mr Vladeck says. "It's not going to scare off the Obama administration. It's not going to scare off the Iranian government. The fallout is just going to be the derision that the authors will meet."
Follow Tara McKelvey on Twitter.