Rob Ford: Ex-mayor's 'memorabilia' auctioned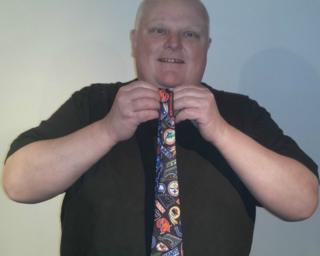 Former Toronto Mayor Rob Ford has put several personal items up for auction, including the tie he wore while confessing to smoking crack cocaine.
Bids for the tie, covered with logos of National Football League teams, has passed 2,000 Canadian dollars (£1,036).
Mr Ford, 45, has said on Twitter 10% of the sales would go towards "Liposarcoma facilities and research".
The former mayor was diagnosed with the rare cancer in September, shortly before his term ended.
He was elected as a city councillor after dropping out of the mayoral race.
Doctors have described Mr Ford's abdominal tumour as "fairly aggressive" and requiring chemotherapy. The status of his treatment is unclear.
Mr Ford admitted in 2013 to smoking crack cocaine while in office after police said they had possession of a video that showed him taking the drug.
After the revelation, Mr Ford said he had "made mistakes" and said he would curb his drinking. He eventually went to a rehabilitation centre for addiction.
He has also been filmed threatening to kill an unspecified person, as well as making lewd comments about oral sex.
Mr Ford has sold one item from the auction so far - a large map of Toronto's port lands - for US $865.
He is also selling a pair of trousers he was "seen wearing on a shopping trip to Wal-Mart", a Saskatchewan Roughriders jersey, and a framed "Keep Calm and Carry On" poster.