US man who 'threw daughter off bridge' ruled incompetent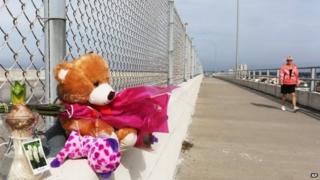 A man accused of throwing his five-year-old daughter off a Florida bridge has been ruled mentally incompetent to stand trial for murder.
John Jonchuck, 25, is being sent to a prison mental facility for treatment until he is capable of understanding the murder charges he faces.
Police say he threw his daughter, Phoebe, more than 60ft (18m) off a Tampa bridge into cold water.
His lawyers have waived his right to a speedy trial.
Prosecutors say experts who have evaluated Jonchuck believe he can become mentally competent in six to nine months with proper treatment.
He was arrested on 8 January after a police officer initially followed him for speeding.
The officer, not identified, drove to catch up with the vehicle but it stopped suddenly. Mr Jonchuck got out and pulled his daughter out of the car, police said.
The officer saw Mr Jonchuck allegedly throw her over the rail into the strong current of Tampa Bay.
She was found about an hour later and pronounced dead at hospital.