Holder vows to lower threshold for US civil rights charges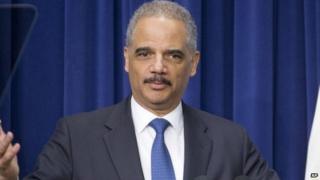 Attorney General Eric Holder says he will try to change the standard needed to bring federal civil rights cases in his last few weeks in the job.
In an interview with Politico, Mr Holder said "if we adjust those standards, we can make the federal government a better backstop".
His comments come after his department said it would not bring such charges in the Trayvon Martin case.
Mr Holder is set to leave after his successor, Loretta Lynch, is confirmed.
Ms Lynch, a US prosecutor in New York, was approved by a Senate committee panel on Thursday and must be confirmed by the wider Senate in the coming weeks.
Mr Holder, who has spoken out strongly about minorities communities relations with law enforcement, said he would use his last days as the US' top lawyer to talk about how the justice department decides to bring civil rights cases.
"I think some serious consideration needs to be given to the standard of proof that has to be met before federal involvement is appropriate, and that's something that I am going to be talking about before I leave office," he told Politico.
The US justice department's civil rights division often opens up investigations separate from local law enforcement when they believe a person has been killed specifically because of their race, but bringing charges requires a high legal standard involving intent of the suspect.
Earlier in the week, the justice department announced it had finished its investigation into the death of Martin, an unarmed black teenager killed by a volunteer neighbourhood watchman, George Zimmerman in 2012.
Mr Zimmerman was found not guilty of murder charges in 2013. The justice department said its investigation into Martin's death did not meet the "high standard" needed for federal civil rights charges against the Florida man.
A similar investigation into another high-profile case, the killing of Michael Brown by a Ferguson, Missouri, police officer is expected to be completed soon.
When asked if the legal standard should be lower in such cases, Mr Holder told Politico there needed to be an adjustment.
"I think that if we adjust those standards, we can make the federal government a better backstop - make us more a part of the process in an appropriate way to reassure the American people that decisions are made by people who are really disinterested," he said.
"I think that if we make those adjustments, we will have that capacity."
It is unclear if Mr Holder will be successful in making any changes with a short time left in office, but he told the website he was proud of what he was able to accomplish during his tenure as attorney general, including civil rights charges against police departments as a whole for discriminatory practices.