US man arrested for shots fired at NSA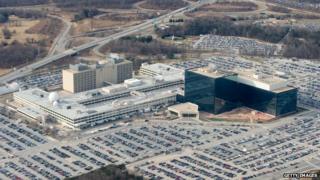 The FBI says one man is in custody for firing shots that damaged a National Security Agency (NSA) building.
The spy agency reported damage to its building in Fort Meade, Maryland on Tuesday.
The man is believed to be responsible for shooting a truck in a separate incident about 12 miles (19 km) away.
Police are investigating whether he is linked to similar incidents over the past few weeks.
Authorities have not released the identity of the man who was taken into custody on Tuesday night.
Around 14:40 local time (19:40 GMT) on Tuesday, a truck was struck by gunfire which resulted in one person being transported to hospital for injuries sustained from broken glass.
Later in the day, gunfire was reported along the Baltimore-Washington Parkway, a major connection between Washington, DC and Baltimore. The NSA reported damage to its building, but said no one was injured.
Authorities are investigating the damage to see "if it is damage from shots fired," US Park Police spokeswoman Sgt Lelani Woods said.
Last week, a man was injured after his vehicle was fired upon, resulting in shattered glass that injured the driver, and on Monday shots were fired near a cinema in the area.
It is not clear where or how the suspect was detained.