Holder: Ferguson must take 'immediate action' on race bias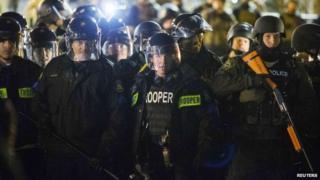 US Attorney General Eric Holder says leaders in Ferguson, Missouri, must take "immediate, wholesale" action after a report of widespread racial bias in its law enforcement.
In what Mr Holder himself called a "searing" report, the justice department found a "disturbing and unconstitutional" pattern of abuse.
One official has been fired and another two suspended for racist emails.
The inquiry began after the shooting death of Michael Brown, 18, by police.
His death sparked nationwide protests over police treatment of minorities.
In response to the report, the mayor of Ferguson, James Knowles, admitted "we must do better" to address racial disparities but he said some initiatives were already under way.
Among the more concrete changes already taken was investigation into racist emails - leading to one firing and potentially two more.
The justice department noted in its report no-one had been previously punished for the emails.
A separate investigation has ended with no federal civil rights charges against former Ferguson police officer Darren Wilson, who killed Brown.
A Missouri grand jury also declined to charge him with murder in November.
"Michael Brown's death, though a tragedy, did not involve prosecutable conduct on the part of Officer Wilson," Mr Holder said in a statement at the justice department.
A lawyer for Mr Wilson, Neil Bruntrager, described the officer as "very happy" with the outcome, while Ben Crump, the Brown family lawyer, said they were "extremely disappointed".
"This underscores the need for change and reform when there is continued use of excessive deadly force on people of colour by police officers," Mr Crump said.
Mr Holder acknowledged the result of the investigation into Mr Wilson did not match up with expectations, and that was in part because of what the wider investigation found about the Ferguson police department and courts.
He described Ferguson as a community where officials used law enforcement to generate revenue and did so disproportionately against African-Americans because of racial bias.
"Amid a highly toxic environment, defined by mistrust and resentment, stoked by years of bad feelings, and spurred by illegal and misguided practices - it is not difficult to imagine how a single tragic incident set off the city of Ferguson like a powder keg," Mr Holder said.
"In a sense, members of the community may not have been responding only to a single isolated confrontation, but also to a pervasive, corrosive, and deeply unfortunate lack of trust."
Mr Holder identifies several of the worst abuses found in the report, including a man arrested at gunpoint after he objected to a police officer accusing him of being a paedophile without probable cause. The man lost his job because of the arrest, the attorney general said.
The report also found black residents were disproportionately subject to baseless traffic stops and citations for infractions as petty as walking down the middle of the street.
The justice department also outlined their findings of explicit racial bias in the ranks - including the racist emails, one depicting President Obama as a chimpanzee.
The report noted public officials regularly made tickets and other minor violations "go away" for for white friends while some black residents spent nights in jail for non-payment of tickets.
Although some community perceptions around the death of Michael Brown may not have been accurate, Mr Holder said, "the climate that created them was all too real". He added: "Some of those protesters were right."
Mr Holder said that while the problems found in the report in Ferguson were "acute" they were "not confined to any one city, state, or geographic region".
Mayor James Knowles said an investigation into the offensive emails had led to the suspension of two individuals and another has been fired.
He also announced some recent recruitment of African American police officers and a civilian oversight board to review resident complaints weekly.
The Department of Justice report was greeted with optimism by some.
"It's quite evident that change is coming down the pike. This is encouraging," said John Gaskin III, a St Louis community activist on Wednesday.
"It's so unfortunate that Michael Brown had to be killed. But in spite of that, I feel justice is coming."
Mr Holder said the justice department is leaving all options open - including the possibly of suing the city if the changes to its police force and court system recommended in the report are not made willingly.