Ferguson shooting: Michael Brown family to file lawsuit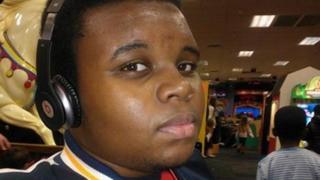 The parents of the unarmed black teenager shot dead by a white police officer in Ferguson, Missouri, are to file a wrongful death lawsuit against the city, a family lawyer has said.
Michael Brown, 18, was killed in August 2014 by officer Darren Wilson, sparking nationwide protests.
On Wednesday, the US justice department said it would not prosecute him in federal court.
But it said it had found racial bias and illegal actions by Ferguson police.
"He did not have to kill Michael Brown," lawyer Daryl Parks said of Mr Wilson.
The justice department report said police in the St Louis suburb of Ferguson overwhelmingly arrested and issued citations to black people to boost city revenues through fines and court fees.
That created a culture of distrust, the report concluded.
Demonstrators gathered outside the Ferguson Police Department on Wednesday when the decision not to charge Mr Wilson was made.
In November, a St Louis County grand jury declined to charge Mr Wilson, who has since left the police department.