Toronto tunnel digger says it was a 'dream' hang out spot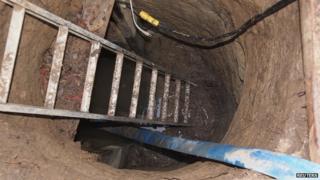 The man who dug a tunnel under Toronto and caused a media frenzy last month says the man cave was merely his "dream" hang out spot.
Authorities initially investigated the possibility of a terrorist connection to the mysterious tunnel.
But Elton McDonald, 22, says the tunnel was simply a private getaway.
"It was a secret for sure, but it was not built for nefarious reasons," Mr. McDonald told The Toronto Sun. "It was a place that no one knew about."
Mr McDonald constructed the 10-metre-long, 2-metre-high tunnel, on land near his family's home, near York University, two years ago.
The space, with a wood trap door, reinforced with wood beams and plywood, took about five months to excavate.
McDonald hung rosary from his sister, for "good luck, a prayer," and a poppy, on the wall, after a serious wall collapse, CTV News reports.
The man with a dream does not call the underground structure a tunnel, but a place to hang out.
"I was going to expand it to have a couple of rooms," he told The Sun. "I was hoping to put in a TV. I did some barbecuing there."
Mr McDonald, who describes himself as the "main digger" has worked in construction since he was 17 and said the idea was something he'd always wanted to do.
After the tunnel was discovered, McDonald says he was too nervous to come forward, but police were able to trace a generator to the construction company where Mr McDonald works.
This week, investigators announced the tunnel was built for "personal reasons," not for criminal purposes.
No charges were being laid, and police filled in the space.