Thousands gather in Alabama to remember Selma march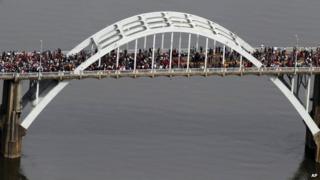 Thousands of people have gathered in Alabama to mark the 50th anniversary of the Selma civil rights march.
Police estimate that up to 20,000 people crossed the Edmund Pettus Bridge where security forces attacked black demonstrators on 7 March 1965.
Among the crowd were those who had made the "Bloody Sunday" march to campaign for equal rights.
The event comes a day after US President Barack Obama visited Selma to pay tribute to the original marchers.
He called them "heroes" and said that they had "given courage to millions".
On Sunday, a huge crowd gathered on the bridge to commemorate those who marched in 1965.
The day became known as "Bloody Sunday" after police beat and used tear gas on demonstrators as they made their way over the crossing.
That event, and a follow-up march from Selma to Montgomery two weeks later, helped build momentum for approval of the Voting Rights Act by Congress that removed all barriers preventing African-Americans from registering as voters.
US Attorney General Eric Holder spoke before the symbolic walk across the bridge on Sunday.
He recalled the beginning of the 1965 march which was sparked by the murder of activist Jimmie Lee Jackson.
"An unarmed, young black man," he said.
On Saturday, Mr Obama also led a march across the bridge and gave a speech where he reminded the American public that despite progress, the fight against racism was not over.
"This nation's long racial history still casts its long shadow upon us. We know the march is not yet over, the race is not yet won," he said.
Mr Obama also condemned new attempts by state governments to restrict voting rights.