New York City votes to keep ferret ban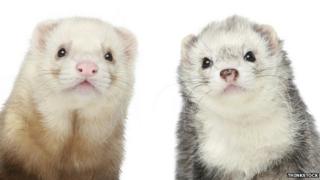 Ferrets will remain banned in New York City despite speculation it was about to lift a long-held ban.
The city Board of Health disappointed ferret fanciers by voting to keep the ban in place at a Tuesday meeting.
In 1999, former New York Mayor Rudolph Giuliani had made it illegal to keep ferrets at home due to a rabies fear.
They remain legal in the rest of New York but banned in some states across the country, including California and Washington DC.
The city of New York has long defined ferrets as wild animals and generally prohibited them.
Then Mr Giuliani made the ban specific to ferrets due to rabies concerns and fears of attacks on children.
The city Board of Health was split on the issue, with the vote 3-2 in favour but requiring six votes to pass. There were three abstentions.
Related to weasels, ferrets have gained popularity as pets in recent decades.
Celebrities such as Paris Hilton have helped popularise them, although she was forced to hand over her two pet ferrets, Dolce and Gabbana, to California's authorities after revealing she owned them in an interview.
Ferret fanciers have long opposed the ban. In 2002, then mayor Michael Bloomberg was forced to defend the ferret prohibition in court.
The upholding of the ban means that owners will have to continue risking confiscation if identified by authorities.
"We are responsible pet owners, and we are begging to be able to take our pets to the vet without fear", said ferret owner Veronica Nizama, who clutched a ferret toy as she watched Tuesday's vote, "or even just go outside and let them feel the sun or the grass between their paws."