Two Oklahoma students expelled over racist chant video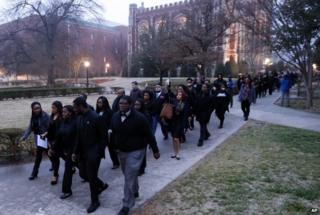 Two University of Oklahoma students who led the singing of a racist chant that was recorded and posted to social media have been expelled.
The students "created a hostile learning environment for others," a statement from the university read.
University president David Boren made the announcement in a tweet which included a link to a larger statement detailing his reasoning.
The video of the chant has caused a national outcry in recent days.
The video was posted online by a black student group and showed members of the Sigma Alpha Epsilon fraternity singing racist chants that said a black person would never be allowed to join the fraternity.
It also used a racial slur and referred to lynchings.
Mr Boren said that the investigation into the students seen in the video is ongoing, and said: "Once their identities have been confirmed, they will be subject to appropriate disciplinary action."
In response to the video, students rallied against racism and in support of the student group on Monday.
Mr Boren attended the rally and called the remarks "disgraceful," saying the news broke his heart.
Oklahoma University's chapter of the fraternity has been closed down.
About 5% of the university's students are black, and the fraternity system is largely segregated, according to Associated Press.
Fraternities are social organisations that college students, usually male, are given the option to join at many universities across the US. Sororities are a similar option for female students.