Atlanta police shoot naked and unarmed black man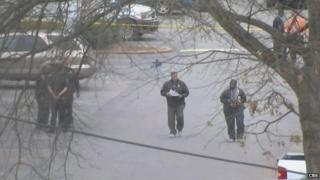 A white police officer in an Atlanta suburb shot dead an unarmed black man who was not wearing clothes on Monday.
The officer was responding to an emergency call about a man "acting deranged" and "crawling around on the ground naked".
DeKalb County Police Chief Cedric Alexander said no weapon was found at the scene, and suggested that the man may have suffered from mental illness.
Since Friday, at least three unarmed black men have been shot by US police.
The man has been identified by local media and The New York Times as 27-year-old Anthony Hill, a veteran of the US Air Force.
Police have identified the officer who fired the shots as Robert Olsen, according to the Reuters news agency. He has been on the force for seven years.
Around 13:00 local time (17:00 GMT) on Monday, the officer responded to an emergency call at an apartment complex northeast of Atlanta.
According to Mr Alexander, Hill charged at the officer despite repeated orders to stand down.
The officer fired two shots, and Hill was declared dead at the scene.
The officer was in possession of a non-lethal Taser, according to Mr Alexander, who also noted that the officer attempted to provide emergency aid to the man.
"It appears that may not have been any weapon found at the scene," Mr Alexander told reporters on Monday.
The case has been turned over to the Georgia Bureau of Investigation.
"I find it - we find it here - very important that we seek and appear to be as transparent around this investigation as we can," he said.
When asked whether Hill had a history of mental illness, Mr Alexander said: "I don't know that specifically. I can only reasonably assume if he was running around in the apartment complex naked, I believe we can make the assumption there may have been some mental health experience that he might have been having."
Speaking to The Times, a family member said Hill was a veteran of the US Air Force and had sought treatment from the Veteran's Administration. "To my understanding he was having some difficulties with the medication that he was on," Harrietta Jones said.
The officer involved in the shooting has been placed on administrative leave.
US police departments have been criticised in recent months after several high profile cases in which white officers killed unarmed black men.
Last Friday, police in Aurora, Colorado, shot dead an unarmed black man following an altercation with police who were trying to arrest him. The same day, a white police officer in Wisconsin shot dead an unarmed black teenager who police said had attacked the officer during an arrest attempt.