US agency drops efforts to ban armour-piercing bullets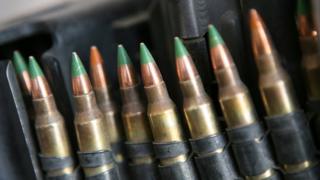 Bullets that are able to pierce police officers' protective vests will remain legal in the US after a proposed ban met with a fierce opposition from gun rights activists.
The Obama administration sought to ban certain types of ammunition used in the popular AR-15-style rifles.
Many armour-piercing bullets used in handguns are illegal under the Law Enforcement Officers Protection Act.
But rifle bullets have long been exempt.
The Bureau of Alcohol, Tobacco, Firearms and Explosives (ATF) argued that high-powered, pistol-like rifles didn't exist when the law was enacted in 1986 and therefore some rifle bullets also should banned as well.
The rule change would have affected only "M855 green tip" or "SS109" rounds with certain types of metal core projectiles.
More than 50 US senators wrote to the ATF protesting against the proposed ban.
"If law-abiding gun owners cannot obtain rifle ammunition, or face substantial difficulty in finding ammunition available and at reasonable prices because government entities are banning such ammunition, then the Second Amendment is at risk," the senators said in the letter.
On Tuesday, House Judiciary Committee Chairman Bob Goodlatte, a Virginia Republican, said he was "pleased that the Obama administration has abandoned its attack on the Second Amendment",