Arizona police make arrest after several shot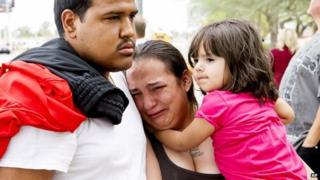 One person is dead and at least five have been shot at multiple locations in a suburb of Phoenix, Arizona.
Police have arrested a gunman - who has not been named - after a manhunt in Mesa lasting several hours.
Multiple locations across the city were in lockdown as police from several nearby communities converged on the city to help with the search.
The gunman's motive is not yet known. Earlier, police said they believed he was acting alone.
The suspect was taken into custody at 13:09 local time (20:09 GMT), according to Esteban Flores, a spokesman for the Mesa Police Department.
Authorities spotted the man on the balcony of a vacant condominium, and the Mesa Swat team used a Taser to subdue him.
Video from a local news helicopter showed the suspect being led away from the building and into a car by police.
"We believe he is responsible for each and every one of these shootings," Mr Flores told reporters when the arrest was announced.
One of his victims remains in a critical condition.
Mr Flores did not detail the suspect's motive, but said that the shootings began with an altercation at a motel. The subsequent shootings were either random or done in an attempt to flee, he said.
The suspect's name and photo are not being released because investigators are still interviewing witnesses.
Around 8:40 local time dispatchers received an emergency call about an incident at a motel.
When they arrived at the scene, they found one man and two women who had been shot. The man died at the scene.
While first responders were tending to the victims, they received another call requesting their help at a nearby restaurant run by students.
Police say the suspect stole a car at the restaurant and fled to a nearby apartment complex.
At the apartment, police found a man who had been shot. They said that he will survive.
While at the apartment, police received yet another alert about a shooting in another, unspecified location. At that location, first responders found one male victim who is currently in a critical condition.
The arrest comes after local police, aided by agencies from several nearby communities and the FBI, carried out an hours long manhunt.
The stolen car has been recovered.