Viewpoint: A clean slate for US and Afghanistan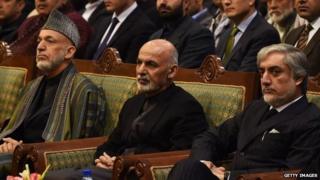 As Afghan President Ashraf Ghani and government Chief Executive Abdullah Abdullah prepare to visit Washington, DC, the prospects are much improved for a sustainable US-Afghan partnership.
To be sure, there are risks. Afghan corruption remains serious and national governance is weak. US President Barack Obama is anxious to wrap up the US military mission to Afghanistan by the end of his own presidency.
The aid budget for Afghanistan has already been whittled away by a US Congress that finds it unusually large in light of Afghanistan's challenges in using it well, not to mention broader US fiscal pressures.
But all that said, compared with a year ago, times have changed for the better.
Whatever his contributions to his own country, and whatever the American flaws that also deserve a share of the blame for Afghanistan's enduring challenges, the previous president, Hamid Karzai, had became a major problem in Afghanistan's relationship with the West, becoming far too prickly even when there was sometimes a logic to some of his positions.
This attitude did not sit well with a United States that was sending its sons and daughters to fight and sometimes die in the Hindu Kush, while also turning Afghanistan into America's largest aid recipient.
Then, a disputed presidential race where both sides accused each other of fraud threatened the very essence of Afghan democracy while taking the country towards the precipice of sectarian conflict.
Meanwhile, Nato forces reduced their combined military strength in Afghanistan to just 10% of what it had been at peak, even as the Taliban remained resilient.
'Wise man'
Compared with all these circumstances, the situation today is much more promising in terms of American political support for the Afghan project.
There are still important tasks in front of Mr Ghani, Mr Abdullah, and American lawmakers during the visit. But the die is cast for a successful outcome.
Mr Ghani is a wise man who understands America, having lived here a long time and also having handled many aspects of the modern US-Afghan relationship in various government jobs in Kabul over the past decade and a half.
He is also a kind and gracious man who will surely thank Americans for their sacrifice on behalf of his country, and is a committed reformer who will be able to cite progress in some areas of Afghan governance, even while acknowledging that there is a great deal more work to do.
The Afghan president is a worthy commander-in-chief who appreciates not only the efforts of Nato troops, but the sacrifices made - and the tenacity displayed - by his own army and police.
I am sure he will say all these things.
Meanwhile, on a somewhat smaller but still important stage, Mr Abdullah will play his part as well.
He will embody the fact that Afghanistan continues to co-operate across ethnic and sectarian lines, despite the tensions, in a way that much of the Middle East today does not.
He too will have ideas on reform and improvement of Afghan governance - indeed, he ran for president on just such a platform in both 2009 and 2014.
The US Congress will generally like what it hears.
To be sure, it may whittle away modestly at the Afghanistan aid request, especially on the economic side, as it has before.
But with the Middle East in turmoil, and America's military departure from Iraq in 2011 looking like a clear mistake, few will be anxious to repeat the error in Afghanistan, or to cut off aid precipitously after so much joint spilling of sweat, blood, tears, and financial resources there since 2001.
US needs bases
President Obama is actually the greater challenge on the US side.
Even if he agrees to slow down the planned cuts to US forces in Afghanistan this year, his intention of taking all operational American military forces from the country by the end of next year remains on the books.
It is a big mistake, and needs to be changed.
The US needs counterterrorism tools - meaning military bases - on an enduring basis from which to strike al Qaeda, perhaps Islamic State, and other extremists in the region even after 2016.
It also needs to sustain a kind of presence, and thus leverage, that it squandered in Iraq in 2011 (admittedly, the Iraqis had a hand in that too).
With its leverage weakened, Washington was far less able to influence former Iraqi Prime Minister Nouri al-Maliki's increasingly misguided and sectarian rule.
Again, no repeat performance of such a policy is desirable in Afghanistan.
The US should keep two to three bases in Afghanistan indefinitely, as part of an enduring presence and partnership.
So while Congress is important on this one, it's the White House reaction to the Afghan leaders' visit that we should watch most closely.
Michael O'Hanlon is a senior fellow at the Brookings Institution.