New York City council approves monument to slaves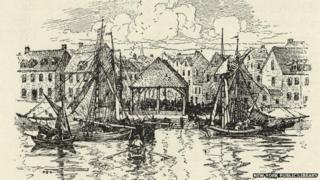 The New York City Council has approved a monument recognising the contributions of slaves to the city's founding and economy.
The marker will be placed in the Wall Street area, about a block from where the city's first slave market stood.
When the council approved the market in 1711, almost 1,000 of the city's 6,400 people were black, according to Columbia University.
The monument is expected to be unveiled this summer, officials told the BBC.
The new marker will join 38 other markers - mostly commemorating success in the financial and construction industries - in lower Manhattan, WNYC reported.
Officials told the local radio station that the sign memorialising the contributions of slaves would be revealed on 19 June, a day known as "Juneteenth", which marks the anniversary of the emancipation of slaves in the confederate south.
But an official with Councillor Jumaane Williams' office told the BBC the timing for unveiling and the exact location have not been confirmed.
One factor that may push the unveiling later into the summer is that the sign's text has not been approved, the official said.
He also said that the exact location for the sign had yet to be settled, and that there were concerns about a large amount of scaffolding in the area obscuring the memorial's prominence.
Councillor Williams, who has championed the memorial for several years, is "so excited about this and has been working on it for years," according to the spokesman.
In the early 18th Century, slaves in New York worked in households, farms, and as a traders and dockworkers.
The New York City Council passed a law on 13 December 1711 requiring all slaves "be hired at the Market house at the Wall Street Slip".
A National Museum of African American History and Culture is being built in Washington but campaigners have long argued there should be a national memorial to slavery also.