E-cigarette use triples among US teenagers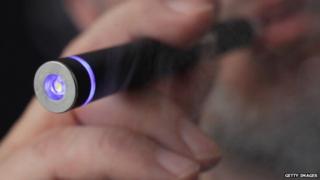 The use of electronic cigarettes has tripled in one year among teenagers in the United States, the government reports.
Electronic cigarettes mimic the effects of real ones, producing a vapour that is less harmful than cigarette smoke.
Increasing numbers of smokers have started using electronic cigarettes since bans on smoking in enclosed public places became more common.
Novelty e-cigarettes flavours have also attracted teens.
E-cigarettes flavours include cotton candy and breakfast cereals like Cap'n Crunch.
Many use e-cigarettes as a way of stopping smoking regular cigarettes. But the vapour usually contains nicotine, the addictive substance in cigarettes.
"We want parents to know that nicotine is dangerous for kids at any age, whether it's an e-cigarette, hookah, cigarette or cigar," said Tom Frieden, Director of the Centres of Disease Control and Prevention.
E-cigarettes are largely unregulated, and the products are so new that researchers are still studying their effects.
"In today's rapidly evolving tobacco marketplace, the surge in youth use of novel products like e-cigarettes forces us to confront the reality that the progress we have made in reducing youth cigarette smoking rates is being threatened," said Mitch Zeller of the Federal Food and Drug Administration.