IS says it was behind US Prophet cartoon attack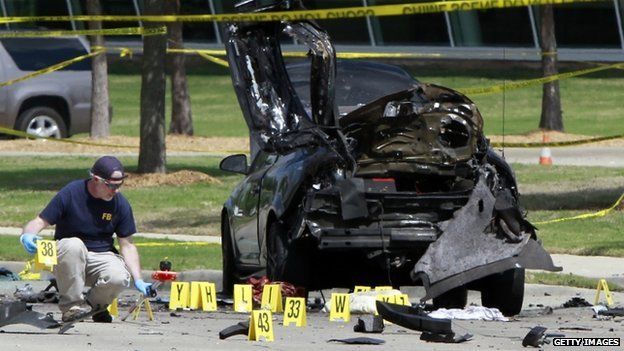 Islamic State (IS) has said that it was behind the attack on a Prophet Muhammad cartoon contest in the US state of Texas.
It said that "two soldiers of the caliphate" carried out the attack at a conference centre near Dallas.
IS's al-Bayan Radio news bulletin said the exhibition "was portraying negative pictures of the Prophet Muhammad".
Both suspects were shot dead after opening fire at the contest on Sunday.
Correspondents say that it is believed to be the first time that IS has claimed to have carried out an attack in the US.
"We tell America that what is coming will be even bigger and more bitter, and that you will see the soldiers of the Islamic State do terrible things," the statement released by the group said.
Court documents have shown that one of two gunmen shot dead had been a terror suspect.
Elton Simpson had been under surveillance since 2006 and was convicted in 2010 for lying to FBI agents about plans to go to Somalia to engage in violent jihad, or holy war, the files reveal.
A judge found him guilty of making a false statement and he was sentenced to three years' probation and a $600 (£400) fine.
He had shared a flat in Arizona with the person named by officials as the other alleged gunman, Nadir Soofi.
On Monday, FBI agents searched their home in Phoenix and a white van parked outside.
Analysis: Frank Gardner, BBC security correspondent
This is obviously not the first jihadist attack to take place on the US mainland, but if Islamic State is able to prove that it planned and directed it - rather than just staking a claim after the event - then that would be a significant development.
It is also possible that IS's claim is one of convenience, that it played little or no part in the attack.
In some ways, it was a failure. The attackers did not get near the actual event organisers or speakers and the two gunmen ended up being the only ones killed, shot down not by a SWAT team, but by a traffic policeman.
But that would be to miss the point. For IS, this is all about publicity and the generation of fear. The message they want to give Americans is: "You're not safe in your own backyard, this was just the beginning and there are more attacks to come".
The court documents also showed that Simpson had been under investigation since 2006 because of his association with an individual the FBI believed was trying to set up a terrorist cell in Arizona.
He had worshipped at the Islamic Community Center of Phoenix for years but the imam there told the BBC he had not seen him there as much since 2010.
Simpson's family have expressed disbelief that he could have been involved. His father Dunston told ABC News: "What my son did reflects very badly on my family."
The incident on Sunday unfolded when a car drove into the car park of the Curtis Culwell Center in Garland, a city near Dallas, where a Muhammad Art Exhibition organised by the controversial American Freedom Defense Initiative (AFDI) was being held.
The conference included a contest that offered a $10,000 (£6,600) prize for a cartoon of the Prophet Muhammad. Depictions of Muhammad are offensive to many Muslims.
The two men in the car opened fire with assault rifles on two security officers, but were shot dead on the spot.
Are you in Dallas? Did you witness the incident? You can email your eyewitness accounts to haveyoursay@bbc.co.uk.
Please leave a contact number if you are willing to speak with a BBC journalist.