Four killed as plane crashes into Atlanta motorway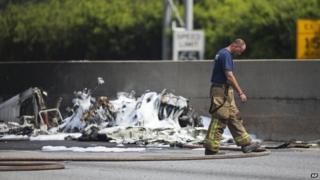 A small passenger aeroplane has crashed and burst into flames along a busy Atlanta motorway, killing all four people onboard.
No one on the ground was hurt although the plane nearly stuck a vehicle.
"It's a miracle, literally a miracle, that no other cars were hit," DeKalb Fire Capt Eric Jackson said.
The Piper PA-32 crashed minutes after taking off from DeKalb Peachtree Airport on Friday.
Rescue workers shut down Interstate 285 in both directions so investigators could determine what happened. The closure created traffic problems through the city.
Authorities did not immediately release the names of the victims.
"It looked like it was struggling. You could see him trying to get the nose of the plane up. It was edging up, and then it just dropped," witness Don McGhee told the Associated Press. "It was just a huge fire, just smoke and fire."